Life never ends! You can achieve anything or everything if you are determined enough to make it. If you've read the inspiring story of Nick Vujicic, a man born with no limbs, you already know how you can create hope even when there is no hope for future, and also disability is not inability.
Today I have come with another inspiring story of a boy who conquered his blindness through his strong will power, determination, merit and real belief in himself; who shows the world that no obstacles can stop a person from pursuing his goal if he is determined enough. This story is about Srikanth Bolla, a boy who never thought to give up instead of some rejections throughout his life rather who has established his imposing presence in every sphere of his life through his talent and hard work.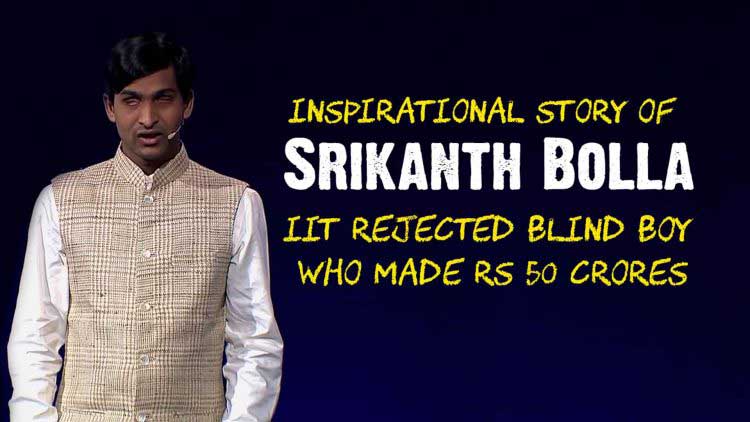 The Blind boy who was once rejected by IIT has become a millionaire by his excellence. Here is his story full of inspiration and positive vibes:
The Early Life Story of Srikanth Bolla
In a Remote village of India, a little boy was born to a destitute family with yearly earning of only 300 USD. Birth of a child is always a heavenly moment for every parent. But this poor parent is not fortunate enough to celebrate their child's birth as their 'apple of an eye' does not have any eye at all.
The wretched parent's sorrows become more severe when some of their friends, neighbors, family members announced the birth of their loving child as 'sin.' The world was not ready to welcome this newborn child as he was blind by birth. Because of poverty and fear of his inability to do something in future, some of his parent's friends advised them to abandon him.
But his parents were kind to hearten and decided not only to keep him but also to raise him in a positive environment. They named him Srikanth Bolla.
The path of Srikanth's life was not easy. He faced many difficulties throughout his life.
Stumbling Blocks of His Life:
The Unwilling Last Bencher
At the early age of his life, his father took him upon himself to teach him the processes of cultivation. But at such young age with no eyesight, he could not do anything that could be helpful for his father. His father apprehended perhaps the neighbors were right; he would be of no use. It was that time when his father decided to send him to school.
There was no school in their area, so a school situated a few miles away was the only option. To pass the muddy roads, full of crowd and vehicles, was not easy at all for a boy with no eyes. But he managed those obstacles. Unfortunately, a greater obstacle comes in the school-loneliness.
His fellow mates or teachers were not supportive at all. To be precise, they were quite hostile towards him. Nobody acknowledged his presence. He was said to sit on the last bench as he is blind, not even permitted to join PT classes for the same sake. Due to such unwelcoming environment, he was transferred to another school that was specialized for physically challenged people where he passed his school life.
Fighting With Government
Though he scored over 90 percent marks in Class 10, he was not permitted to take science only because of his blindness. The board said he could only take Arts subjects after that.
But a boy with high willpower and determination was no way ready to accept such injustice. He made the decision of fighting. In his words:
---
I sued the government and fought for six months. In the end, I got a government order that said I could take the science subjects but at my own risk.Was it because I was born blind? No. I was made blind by the perceptions and the stigma of the people.
---
It was tough for him to keep his study smooth. But a kind teacher came forward to help him. He converted all class lessons into audio clips which helped Srikanth a lot in preparing for the final exam. And His last score was just more than impressive. He obtained 98 percent in his last exam.
The Unreasonable Rejection from IIT:
The second rejection of his education life came from IIT (Indian Institutes of Technology) in 2009. It was a dream from his school life to get admitted in IIT. But despite having a good score in the entrance test, he was rejected on the ground that he is blind.
I got a letter with the statement that you are blind, and you are not allowed to apply for the competitive exam of IIT.
The reaction of Srikanth on the rejection reflects his confidence and determination:
---
If IIT did not want me, I did not want IIT either.
---
MIT Recognized True Talent:
Later he was able to prove his excellent academic background to Massachusetts Institute of Technology (MIT). MIT received his application and granted his admission. Later, he was graduated in 2012 from MIT.
The Rise of Life with a Flying Color:
After the completion of his graduation, he came back to India. He could immediately start a luxurious corporate life there, but he decided to start a company in his country to help people who are struggling like he did.
Srikanth has begun an organization that employs uneducated and physically challenged employees. He, as the CEO of this Hyderabad-based Bollant Industries, now works with more than 450 people to manufacture disposable, Eco-friendly consumer packaging solutions, which is worth $7 Million/Rs 50 crores.
The Blind boy who was advised to abandon by some stupid people now is the reason for many peoples' happiness.
Ratan TaTa, another Indian business icon was impressed at him who recently invested an undisclosed amount in the company.
Srikanth's three most valuable life lessons:
Srikanth's life full of ups and downs has taught him three precious teachings.
Show compassion and make people productive.
You must Include people in your life and remove loneliness,
and lastly, do something good; it will come back to you.
The Richest Parents In the World:
Srikanth always considers himself the luckiest man alive, not because he is now a millionaire, but because his uneducated but wise parents.
He perception about his parents-
---
My parents who earned 300 USD a year, made no heed to any of the 'advice' they received from their neighbors and friends. They raised me with love and affection.They are the richest people I know.
---
He Shows The World What He Can Do:
When throughout his life the world remains questioning about his ability, Srikanth now is showing them what he actually can do. After all these years, Srikanth Bolla is standing great living by his conviction that-
If the world looks at me and says that Srikanth, you can do nothing. I just look back at the world and say I can do anything.
Lessons Leaned:
Here are some lessons we can learn from the inspirational story of this amazing blind boy, Srikanth Bolla, India.
Disability can never be an inability if you are confident and determined enough to reach your goal.
Don't be afraid of rejections. Remember, if one door is closed, there is, of course, another door open. You just have to find it out and fight for it.
Poverty is not a barrier, but merely an excuse. If you think you can, you can.
Never pay heed to what negative people say. Become deaf to them. Yes, just DEAF.
Never be dishearten about your present situation. You don't know what awaits you in the future. Hope and fight till the last breath.
What's your opinion regarding this real life story? Do you think the story of Srikanth Bolla is motivational? Why don't you share your thoughts by leaving a comment?
You might be interested to hear the story in Srikanth's words. Here it is:
Some Frequently Searched Terms About Srikanth Bolla:
Srikanth Bolla company Name is Bollant Industries, and its website address is: www.bollant.com
FaceBook Adress (***Not Verified): www.facebook.com/sbolla2
Linkedin Adress: https://in.linkedin.com/in/srikanth-bolla-52a49918