Soccer is more than a sport. It is more than a religion. It has become a way of life. No sport can invigorate as much passion as soccer does to fans and players. Nations forget about wars, citizens forgets about hunger, families gather around dinner tables, bosses and subordinates sit in the same room and social classes are forgotten as the world concentrates on watching soccer. Soccer unifies people. It brings people from all walks of life together.
Legends have been born. Economies have depended on soccer. Players have become popular and rich. Soccer is one of the highly followed sport on the globe. Invented in England and perfected in Brazil, it is not a surprise that Europeans and South Americans dominate the sport at individual and national level.
In 2004, South Africa was awarded the right to host the 2010 FIFA World Cup. It was the brightest moment in African history. For the first time ever, an African country was given the right to host the most prestigious sporting tournament on the planet. South Africa's preparation began in earnest. The country built new stadia and people found employment. The tourism industry got a big boost. It was truly a glorious moment for the continent and the country. Even off the pitch, the country was alive and people were united. Even those that did not like soccer were just caught in the cloud of excitement.
Read: Motivational Basketball Quotes with Pictures
On the pitch, the players fought off to be crowned the champions. There never was any dull moment. Exciting and unpredictable matches took place until Spain walked away as the eventual winners. Though the economy of Spain was in the shamble, for once they forgot their problems and came together to celebrate a historic national achievement. Even players from the two biggest rival teams in Spain were united under the banner of soccer victory. Not only humans were part of the World Cup, but an Octopus was also involved in the tournament, correctly predicting results. Soccer is amazing.
There was no patriotism to talk of in the country except regional divisions. Spain's World Cup glory did not cut through sport only but instilled a sense of national pride that the country had been missing. The country's flag waved high and above as the country enjoyed their moment of brilliance.
Also Read: Inspiring Quotes About Baseball
Football is a beautiful game which is competitive in nature. Great names that will live on forever have been written in football fields. It has inspired people. Some have achieved their dreams through playing at the highest stage and winning the biggest accolades in the sport. Goals are important in the game, just like they are important in life.
Winning is the reason why players take to the field. In order to be successful, a positive mindset is required or else a team is doomed to lose. Though individual talent is recognized in soccer, it is the collaborative of the team that gets positive results than the ingenuity of a single individual. Soccer requires teamwork. It requires all players to have the same attitude and zeal to win. It is a game of confidence and taking chances. It is the game that many people love.
Inspirational Football Quotes
Here are some great football motivational quotes for your inspiration.
---
Some people believe football is a matter of life and death. I'm very disappointed with that attitude. I can assure you it is much, much more important than that.
-Bill Shankly
---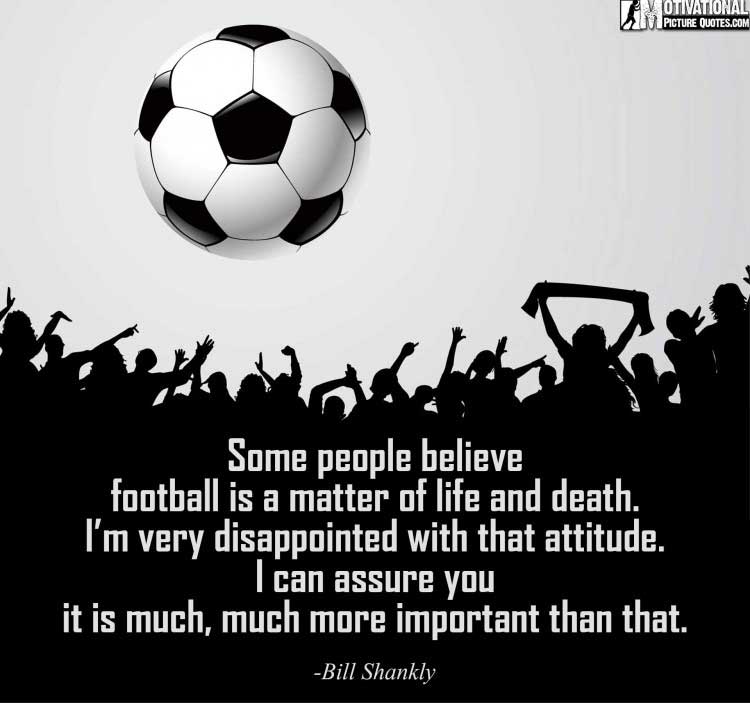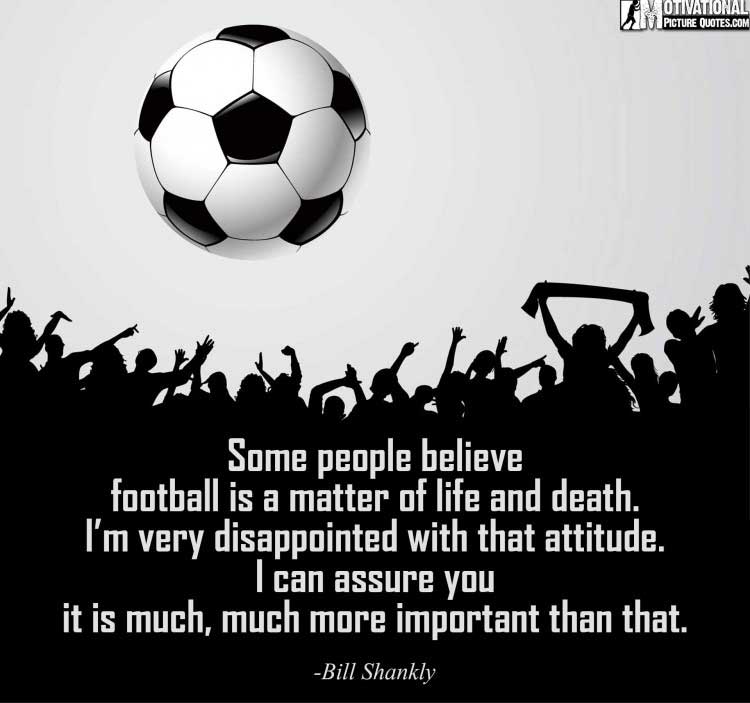 ---
Five days shalt thou labour, as the Bible says. The seventh day is the Lord thy God's. The sixth day is for football.
-John Anthony Burgess Wilson
---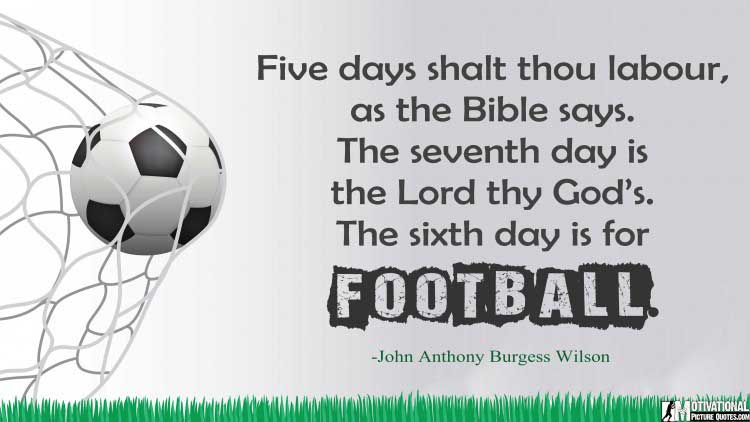 ---
I don't believe skill was, or ever will be, the result of coaches. It is a result of a love affair between the child and the ball.
-Roy Maurice Keane
---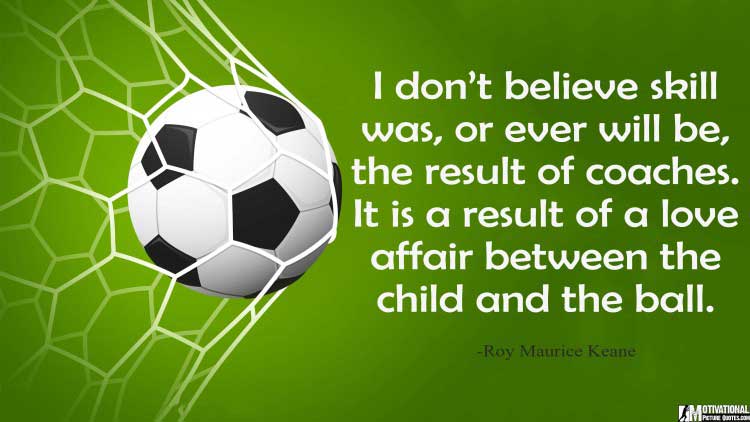 ---
If you're attacking, you don't get as tired as when you're chasing.
-Kyle Rote, Jr.
---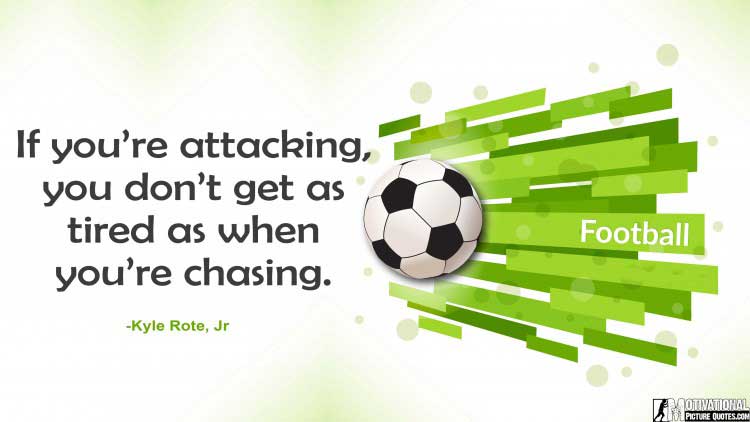 ---
In his life, a man can change wives, political parties or religions but he cannot change his favourite soccer team.
-Eduardo Hughes Galeano
---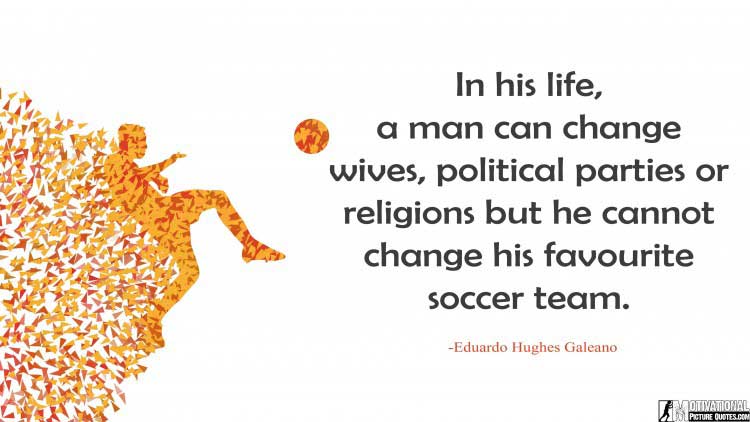 ---
In football everything is complicated by the presence of the opposite team.
-Jean-Paul Charles Aymard Sartre
---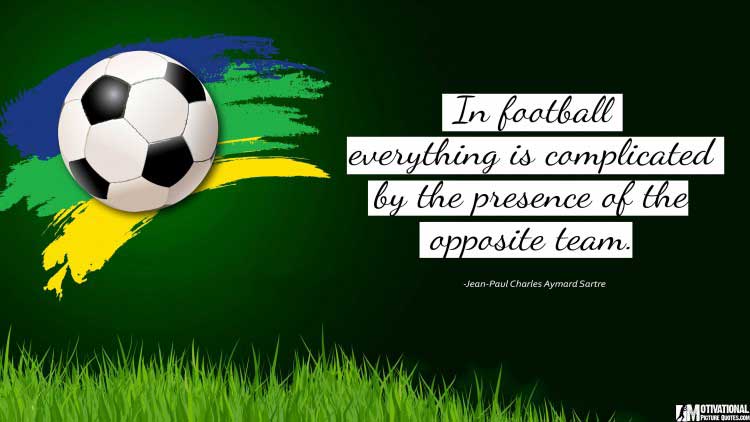 ---
International football is the continuation of war by other means.
-Eric Arthur Blair
---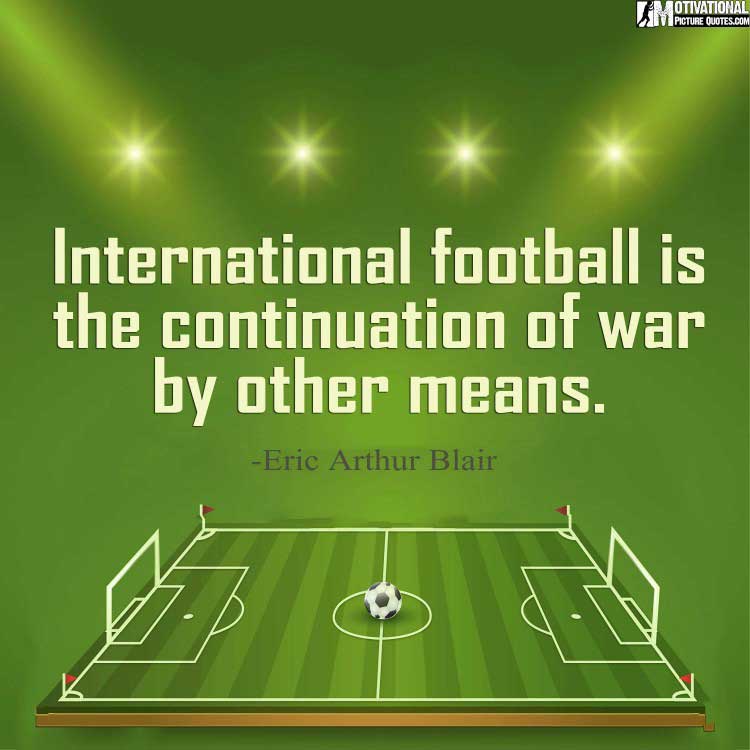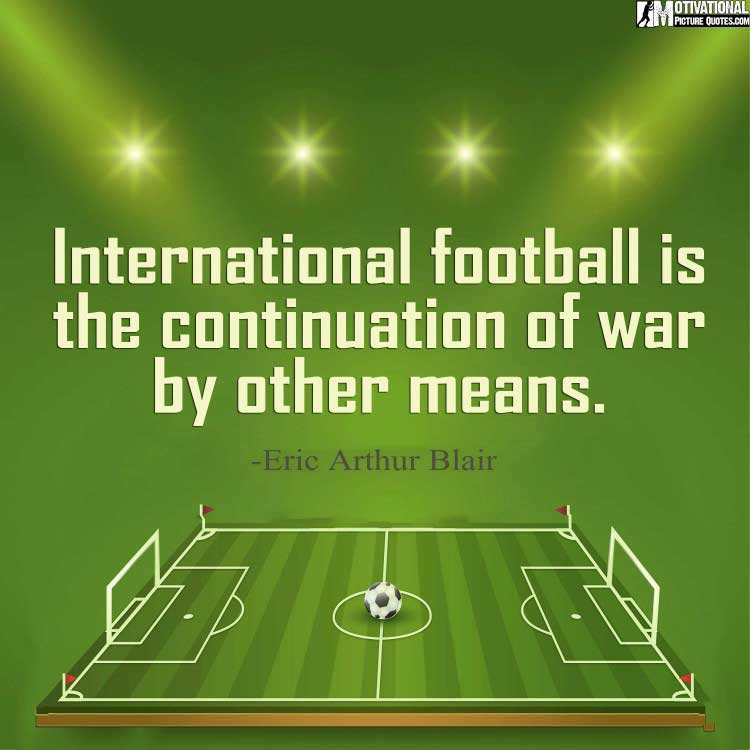 ---
In football, the worst blindness is only seeing the ball.
-Nelson Falcão Rodrigues
---
---
Some people tell me that we professional players are soccer slaves. Well, if this is slavery, give me a life sentence.
-Sir Robert "Bobby" Charlton
---
---
Soccer is not just about scoring goals. It's about winning.
– Unknown Author
---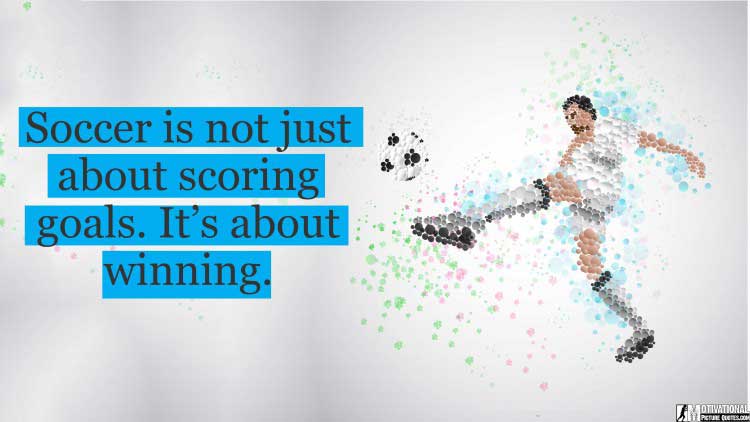 ---
The ball is round, the game lasts ninety minutes, and everything else is just theory.
-Josef "Sepp" Herberger
---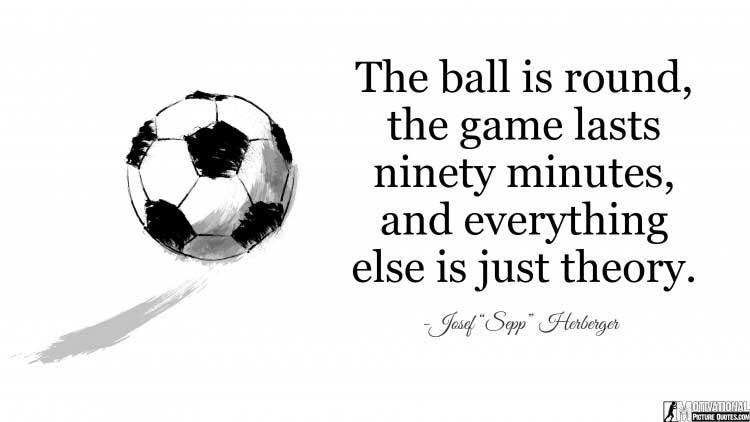 ---
The rules of soccer are very simple, basically, it is this: if it moves, kick it. If it doesn't move, kick it until it does.
-Phillip Abraham "Phil" Woosnam
---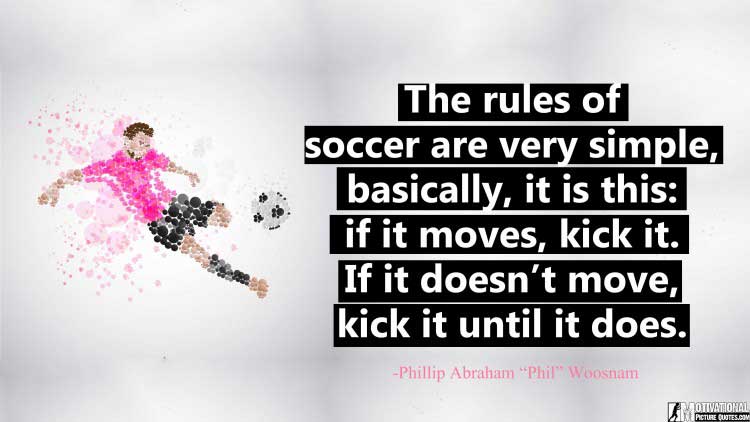 Best Soccer Quotes by Famous football Players
Here are some motivational football quotes with pictures from world famous football players.
Motivational Football Quotes by Pele
---
I always had a philosophy which I got from my father. He used to say, 'Listen. God gave to you the gift to play football. This is your gift from God. If you take care of your health, if you are in good shape all the time, with your gift from God no one will stop you, but you must be prepared.
-Pele
---
---
Everything is practice.
-Pele
---
---
The bicycle kick is not easy to do. I scored 1,283 goals, and only two or three were bicycle kicks.
-Pele
---
---
I am constantly being asked about individuals. The only way to win is as a team. Football is not about one or two or three star players.
-Pele
---
---
Enthusiasm is everything. It must be taut and vibrating like a guitar string.
-Pele
---
---
The World Cup is a very complicated tournament – six games, seven if you make it to the final – and maybe if you lose one game you're out, even if you're the best.
-Pele
---
---
You must respect people and work hard to be in shape. And I used to train very hard. When the others players went to the beach after training, I was there kicking the ball.
-Pele
---
Motivational Football Quotes by Maradona
---
My mother thinks I am the best. And I was raised to always believe what my mother tells me.
-Diego Maradona
---
---
When you win, you don't get carried away. But if you go step by step, with confidence, you can go far.
-Diego Maradona
---
---
You can say a lot of things about me, but you can never say I don't take risks.
-Diego Maradona
---
---
In the end, it is about whether God wants us to be in the final, but I know that is what God wants. This time we will not need the Hand of God, because it is the will of God.
-Diego Maradona
---
Inspirational Football Quotes by Messi
---
You have to fight to reach your dream. You have to sacrifice and work hard for it.
-Lionel Messi
---
---
What I do is play soccer, which is what I like.
-Lionel Messi
---
---
Money is not a motivating factor. Money doesn't thrill me or make me play better because there are benefits to being wealthy. I'm just happy with a ball at my feet. My motivation comes from playing the game I love. If I wasn't paid to be a professional footballer I would willingly play for nothing.
-Lionel Messi
---
---
I prefer to win titles with the team ahead of individual awards or scoring more goals than anyone else. I'm more worried about being a good person than being the best football player in the world. When all this is over, what are you left with? When I retire, I hope I am remembered for being a decent guy.
-Lionel Messi
---
---
Sometimes you have to accept you can't win all the time.
-Lionel Messi
---
---
The day you think there is no improvements to be made is a sad one for any player.
-Lionel Messi
---
---
I always thought I wanted to play professionally, and I always knew that to do that I'd have to make a lot of sacrifices. I made sacrifices by leaving Argentina, leaving my family to start a new life. I changed my friends, my people. Everything. But everything I did, I did for football, to achieve my dream.
-Lionel Messi
---
Inspirational football Quotes by Cristiano Ronaldo
---
Without football, my life is worth nothing.
-Cristiano Ronaldo
---
---
I have two Golden Boot awards at home. It would be nice to win another, but I wouldn't mind it if I didn't.
-Cristiano Ronaldo
---
---
One rule that will work if it is used everywhere, is that when you have a free-kick, the referee puts the mark on the floor to make sure the defenders keep their distance.
-Cristiano Ronaldo
---
---
I'm living a dream I never want to wake up from.
– Cristiano Ronaldo
---
Inspiring Soccer Quotes for Girls :
---
A football team is like a beautiful woman. When you do not tell her, she forgets she is beautiful.
-Arsène Wenger
---
---
There's room for boys' and girls' football in the world – that's what I believe
-David Beckham
---
Female Soccer Quotes by Mia Hamm
---
True champions aren't always the ones that win, but those with the most guts.
-Mia Hamm
---
---
I am a member of a team, and I rely on the team, I defer to it and sacrifice for it, because the team, not the individual, is the ultimate champion.
-Mia Hamm
---
---
Take your victories, whatever they may be, cherish them, use them, but don't settle for them.
-Mia Hamm
---
---
I've worked too hard and too long to let anything stand in the way of my goals. I will not let my teammates down and I will not let myself down.
-Mia Hamm
---
---
It is not sacrifice if you love what you're doing.
-Mia Hamm
---
---
Follow your heart and make it your decision.
-Mia Hamm
---
---
I hope all you young girls see yourself up there… we were just like you.
-Mia Hamm
---
---
I don't like to play rough, but I will if I have to.
-Mia Hamm
---
---
The person that said winning isn't everything, never won anything.
-Mia Hamm
---
---
There are always new, grander challenges to confront, and a true winner will embrace each one.
-Mia Hamm
---
---
I make a lot of mistakes, too, and I'm constantly re-evaluating how I'm doing things and trying to be better every day, whether it's as a mom or taking care of myself.
-Mia Hamm
---
Funny Football Quotes
---
At last England have appointed a manager who speaks English better than the players.
-Brian Howard Clough
---
---
We lost because we didn't win
– Ronaldo
---