Every person wants to achieve something in their life. Every achievement starts by imagining. Dreams serve as fuel to the life of a person. These dreams stimulate the person to strive continuously to overcome any obstacle to make those dreams come true. Every person has the right to dream. If you dream, dream big! Big dreams are very powerful. If you dream big, you can achieve more than what you think you are capable of.
No one can keep you from dreaming big dreams even if your body seems so small to fit such big dreams.Let me tell you a true story-
There was once a young boy who wants to be an excellent doctor when he grows up. Every day, he would tell this dream to his parents. But, his parents will just say to him, "We don't have money for what you want."
His parents are rice farmers who own a little piece of land which his father has inherited from his ancestors. The crops they produce are just enough to feed their hungry stomachs.
It is a good thing that there is free basic education available, or else, his parents could not afford it. In fact, his parents can't even afford to buy him a cone of ice cream. After church, he would always look at other children who stop at a nearby grocery store to buy an ice cream. Once, he asked his mother to buy him an ice cream, but his mother only said, "We'd rather buy fish to cook for lunch than that ice cream." After that, he never asked for an ice cream again.
In spite of their poverty, he was well-performing in school. In fact, he graduated at the top of the class in high school. However, even if he got high grades in high school, his parents can't afford to send him to college. But, he said to his parents, "I will find a way. I will be going to college, and I will be a doctor."
So, he applied for several scholarships. Because of his intelligence and determination, he was granted a scholarship by a particular University. While in college, he worked part-time at a convenience store near the University to finance his rent and daily needs.
Who would ever think, that this poor young boy is now one of the best surgeons in the country? You see, dreams create the best life for you. But, always remember that dreams do not exist unless you work for it. If you think that your dreams are impossible, read the following quotes and think again.
Dreams have the power to influence everything that you do. If you feel that your dreams are sleeping away, don't just stop. Keep the fires of your dreams burning in your heart.
Now I would like to share some Motivational Images with quotes about dare to dream big.
You have to Dream All the Time:
---
"I don't dream at night, I dream all day; I dream for a living."
– Steven Spielberg
---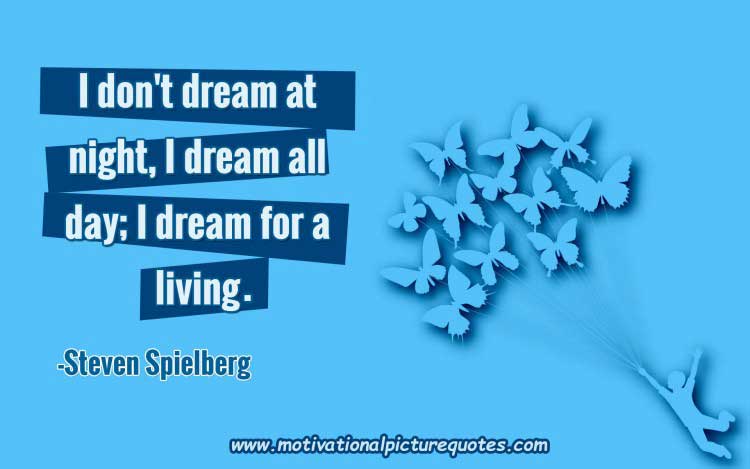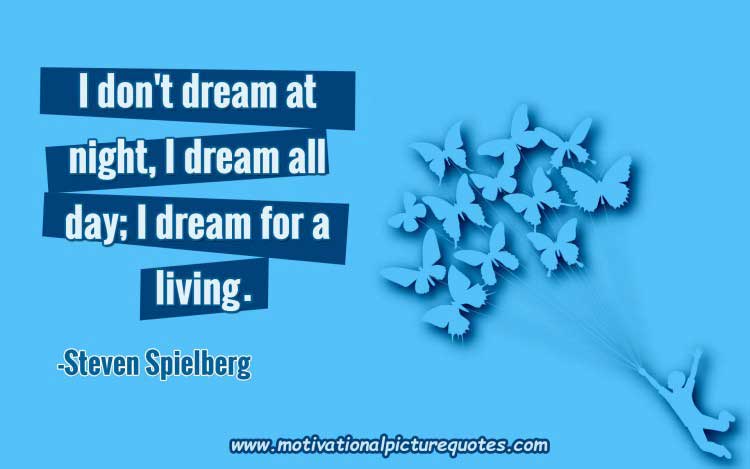 Your Dreams Live As Long As You Want:
---
"Dreams last as long as you let them … both good and bad."
-Michael Marshall
---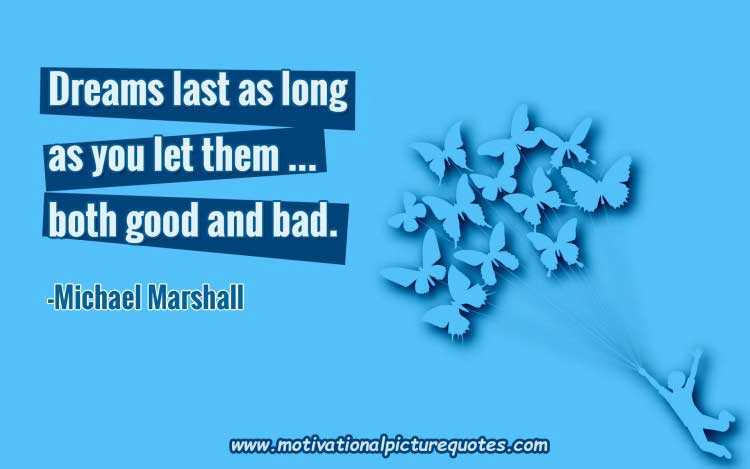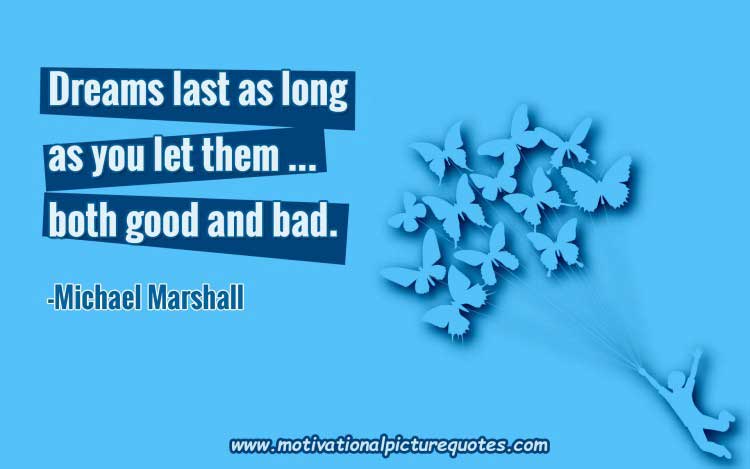 You Need No Magic To Make Your Dream True:
---
"A dream doesn't become reality through magic; it takes sweat, determination, and hard work."
-Colin Powell
---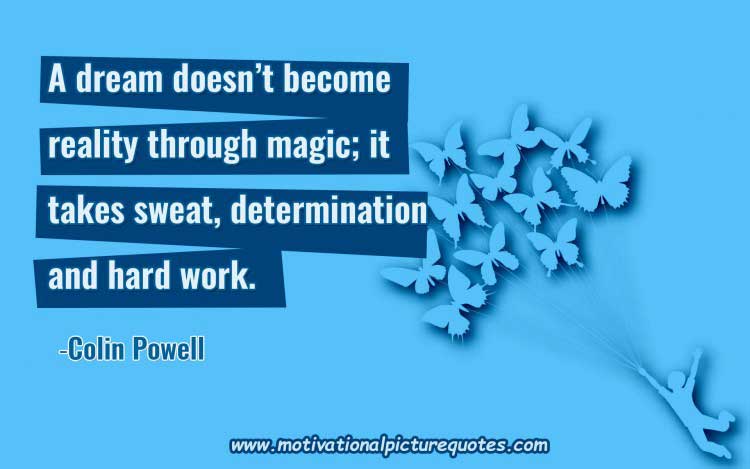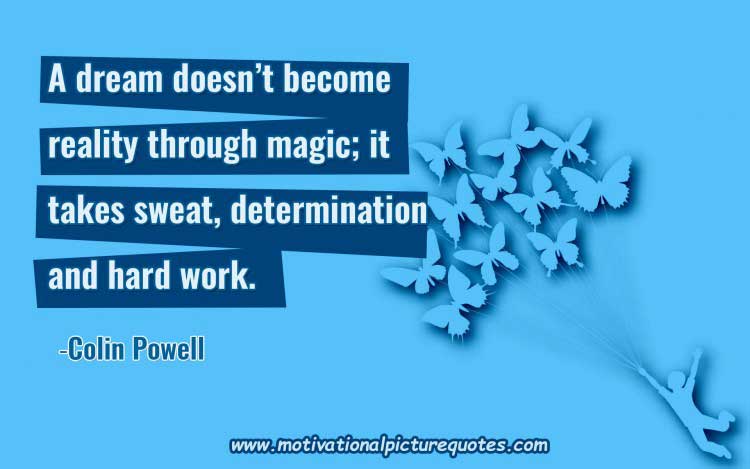 Every Success Starts With A Dream:
---
"You have to dream before your dreams can come true."
-A. P. J. Abdul Kalam
---
Be Confident About Your Dreams:
---
"It takes a lot of courage to show your dreams to someone else."
– Erma Bombeck
---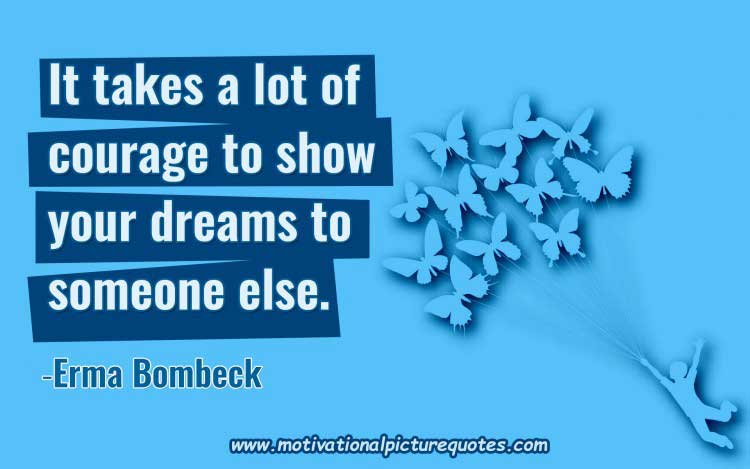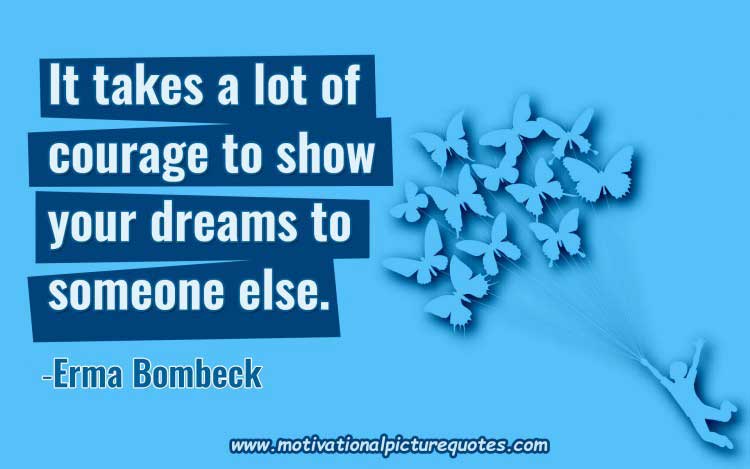 All You Need is To Dream First:
---
"If you can dream it, you can do it. Always remember that this whole thing was started with a dream and a mouse."
– Walt Disney
---
Your Dreams Will Shape Your Future:
---
"The future belongs to those who believe in the beauty of their dreams."
– Eleanor Roosevelt
---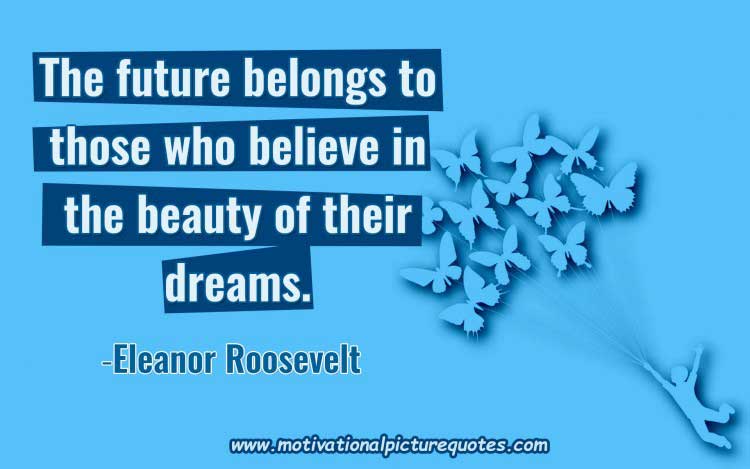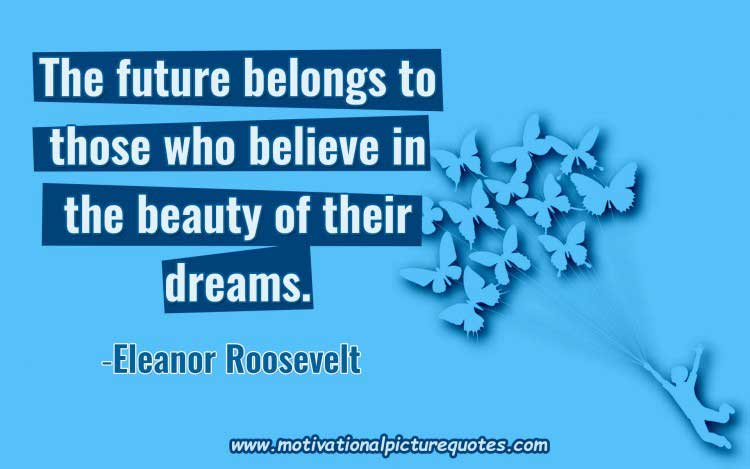 Don't Let The Fear Destroy Your Dream:
---
"There is only one thing that makes a dream impossible to achieve: the fear of failure."
– Paulo Coelho
---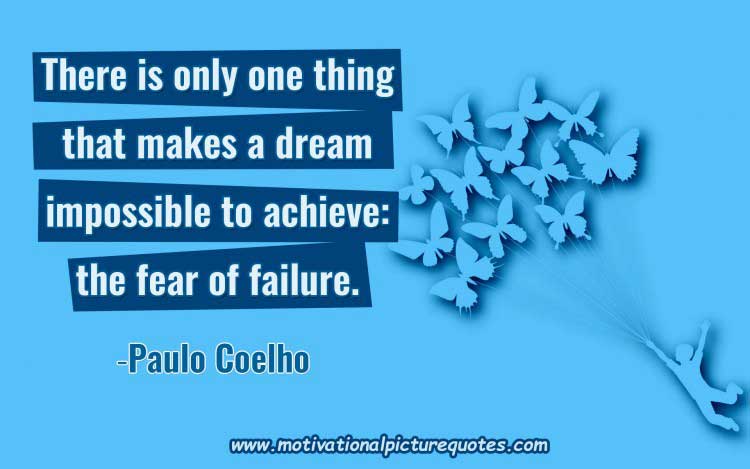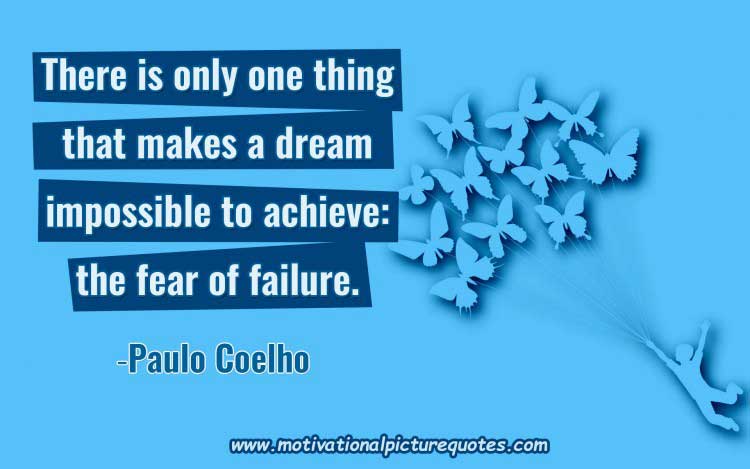 Some More Quotes about Following your dreams
Here are some more following your dream quotes without pictures.
---
"The biggest adventure you can ever take is to live the life of your dreams." – Oprah Winfrey
"A man is not old until regrets take the place of dreams." – John Barrymore
"Dreams are the touchstones of our characters." – Henry David Thoreau
"Ideologies separate us. Dreams and anguish bring us together." – Eugene Ionesco
"We all have dreams. But to make dreams come into reality, it takes an awful lot of determination, dedication, self-discipline, and effort." -Jesse Owens
"20 years from now you will be more disappointed by the things that you didn't do than by the ones you did do. So throw off the bowlines. Sail away from the safe harbor. Catch the trade winds in your sails. Explore. Dream. Discover." – Mark Twain
---
A person's ability to imagine is limitless. However, you need to make sure that your dreams are possible. This means that if you believe, you should know how and what to do to achieve it. Dreams are your inspiration that will give meaning and purpose to your life. But, always keep in mind that your dreams will only come true if you work hard for it. Never be afraid to take risks. Failing is part of the game. But, don't let quitting be part of it. Your mere imagination can't bring you the success you desire. You can be whatever you want to be as long as you have determination, patience, faith, self-discipline, and an enormous amount of hard work.