Many things in life are not inevitable. In fact, we can't even tell how long we are going to live. Have you ever wondered what your life would be ten years from now? Some did, and some didn't. Some people died thinking life while there are also individuals who died cursing life. Some people believe that it is destiny that brought them wherever they are today. On the other hand, there are also people who believe that it is their plan and perseverance that brought them wherever they are today. Does future depend on your destiny or your choice?
There was once a young boy who was told by a fortune teller that he should not marry. If he ever gets married, his wife and children will bring him bad luck, and he will eventually end up homeless. The young boy hated the fortune teller after that. He did not believe anything about what the fortune teller said. Or at least, he is determined not ever to believe it.
The young boy was determined to prove the fortune teller wrong. So he worked hard in his studies. He was always on top of the class. He did his best in everything. He made plans for his future and worked hard for those programs. Few years after he graduated in college, he was one of the best architects in his country.
He was 30 years old when he married. After a year, his first son was born. By then, he knew that the fortune teller was indeed wrong about what he said about his future. His wife and son have only given him more blessings and happiness in his life. He became more inspired in his work. Now, he owns not just a beautiful house for his family but a few apartment buildings which also serve as homes for other people.
Our future is not defined by our fortune alone. We choose our future. We plan on it and we worked hard to carry out our plan. We can't just sit down and wait for our future without doing anything. If we don't work for our future, nobody will. We can't blame anybody if our life doesn't end up very well.
Inspirational Quotes About Future
Are you worried about your future life? Trust me, your future is bright as long as you are determined, making yourself skilled enough and working hard for it. Here are some motivational future quotes images that might help you to go ahead.
Know Your Future
---
The best way to predict your future is to create it.
– Abraham Lincoln
---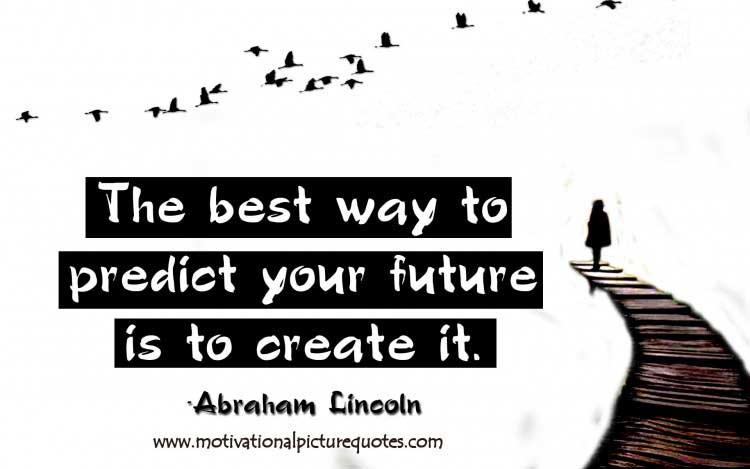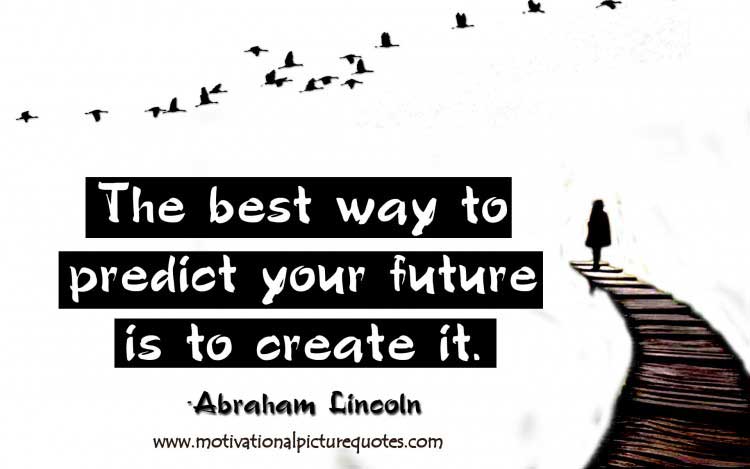 Never Waste Your Time
---
Even though the future seems far away, it is beginning right now.
-Mattie Stepanek
---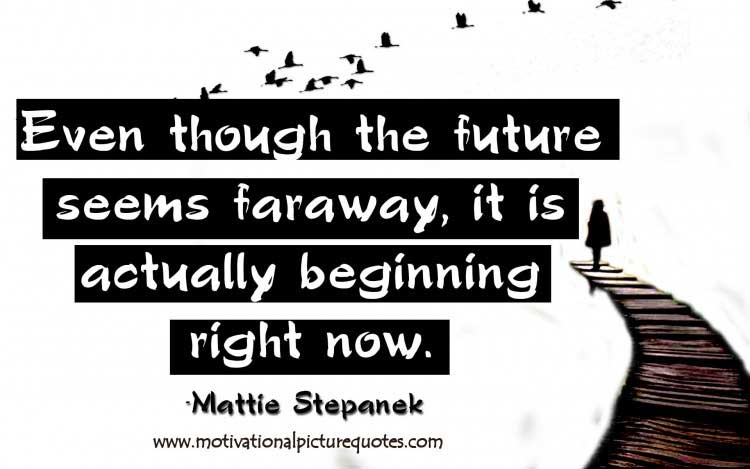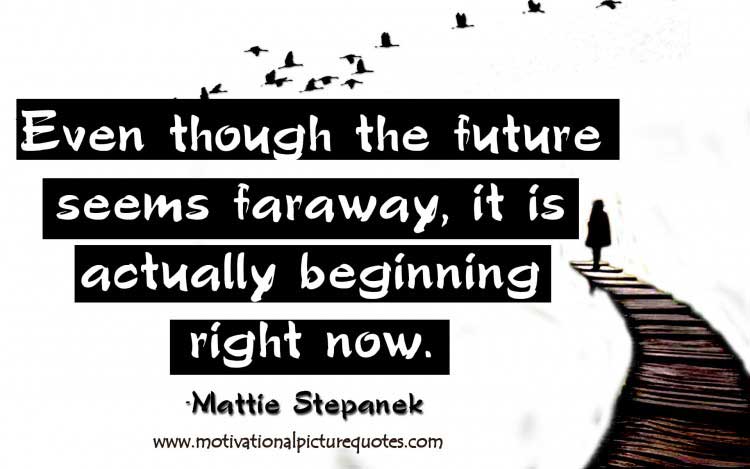 Be The King of Your Future
---
Only you can control your future.
-Dr. Seuss
---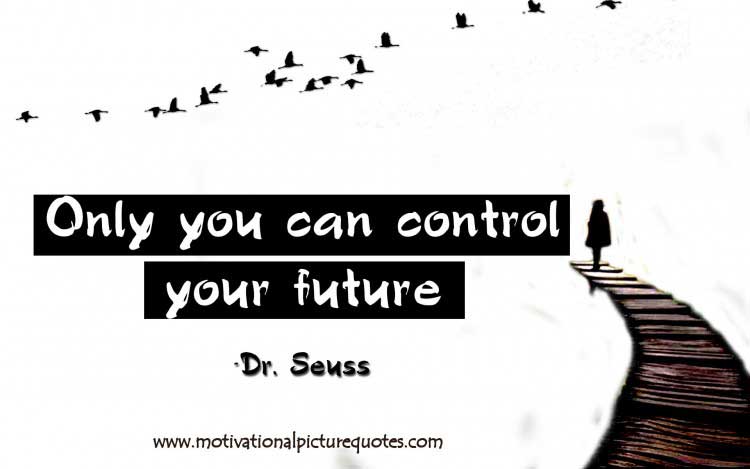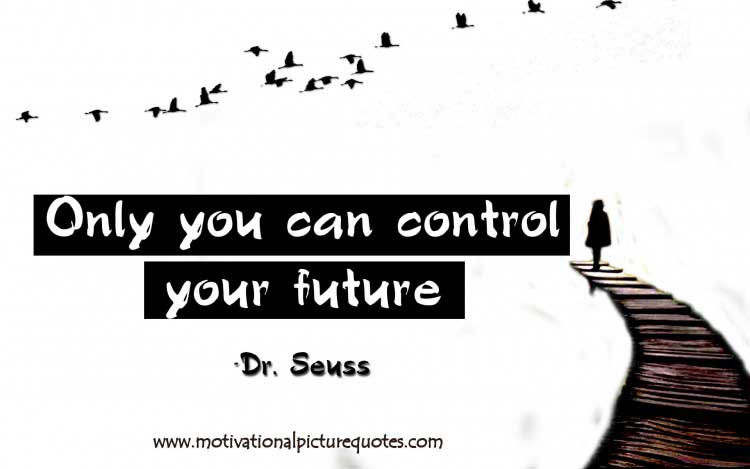 Never Lose Hope
---
Just remember – when you think all is lost, the future remains.
-Bob Goddard
---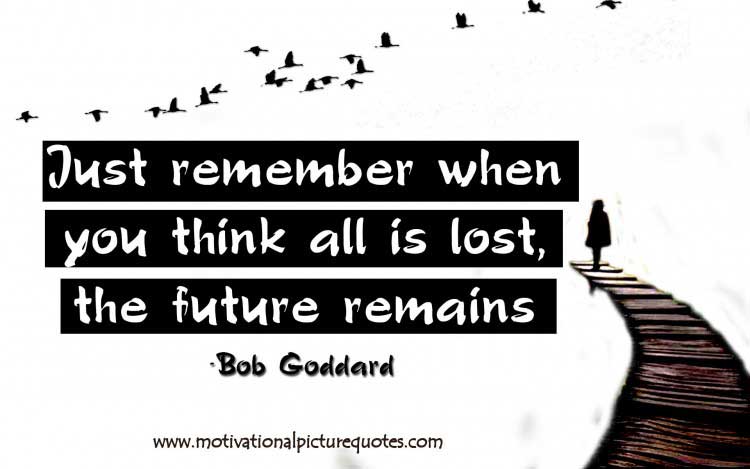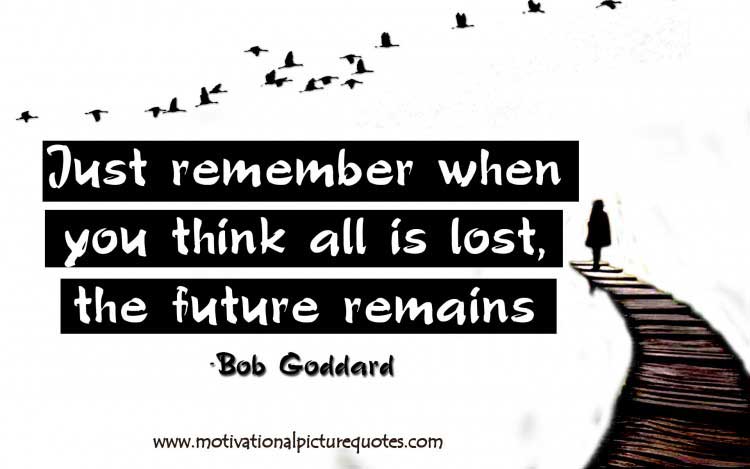 Watch Every Step of Your Life
---
The future lies before you, like paths of pure white snow. Be careful how you tread it, for every step will show.
---
---
My interest is in the future because I am going to spend the rest of my life there.
-Charles F. Kettering
---
Motivational Present and Future Quotes
Here are some famous quotes on present and future.
Reward Yourself
---
Do something today that your future self will thank you for.
---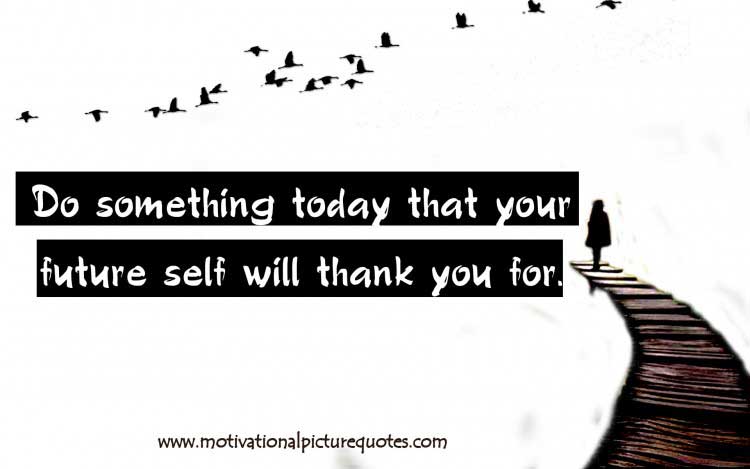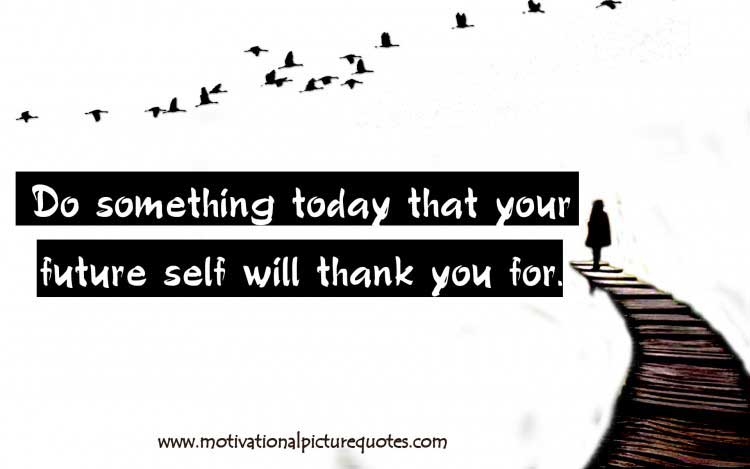 Value Your 'Today'
---
The future depends on what you do today.
― Mahatma Gandhi
---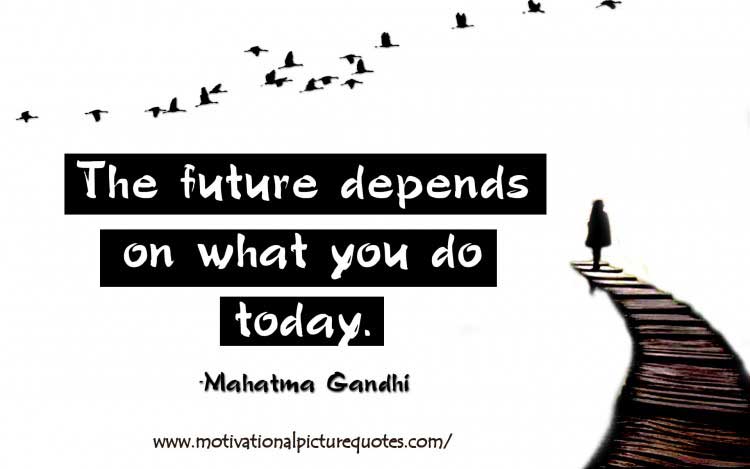 Utilize Your Memories
---
Memories are the key not to the past, but to the future.
-Corrie Ten Boom
---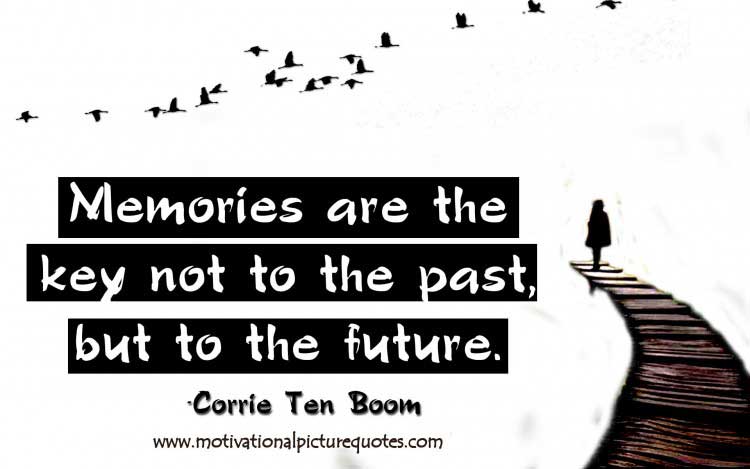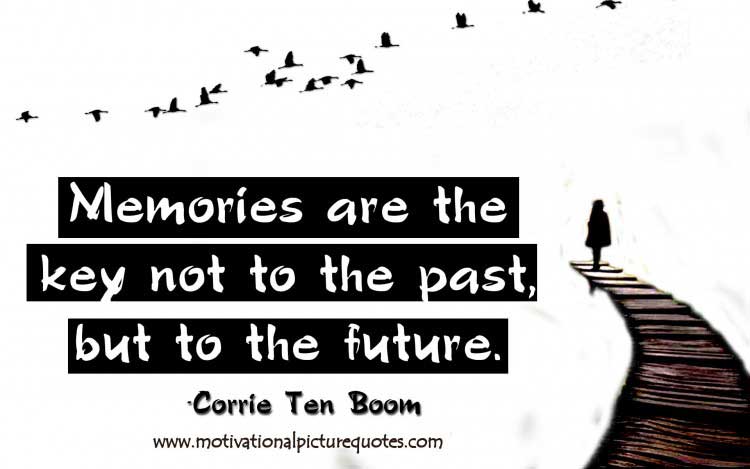 Prepare Yourself For The Future
---
The future belongs to those who prepare for it today.
-Malcolm X
---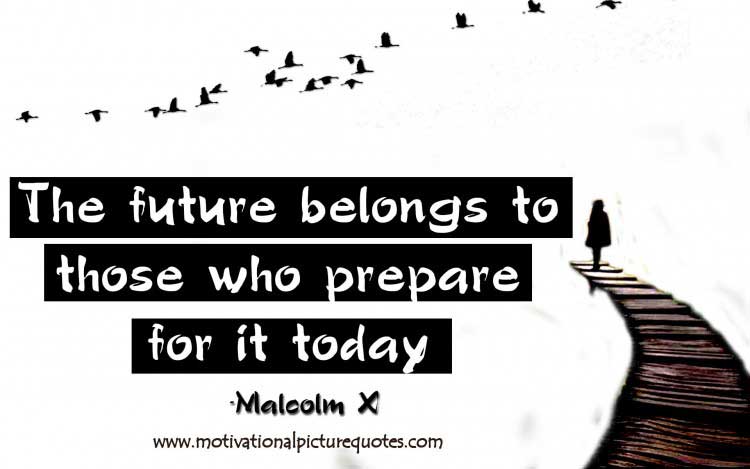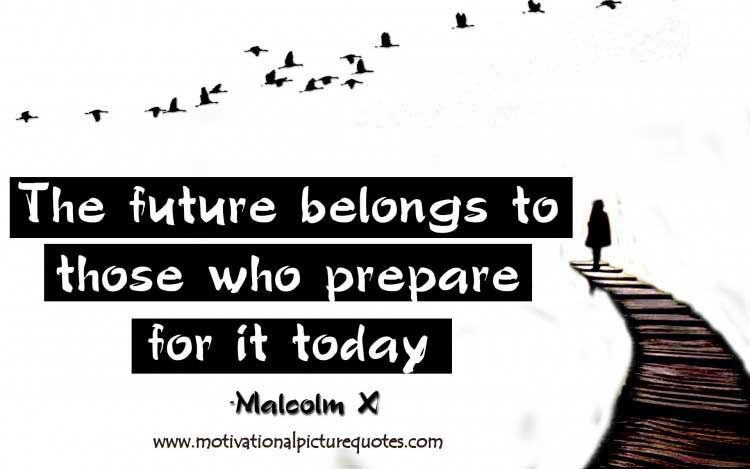 Inspirational Past and Future Quotes:
---
Don't cry over the past, it's gone. Don't stress about the future, it hasn't arrived. Live in the present and make it beautiful.
---
---
Study the past if you would define the future.
― Confucius
---
---
Losers live in the past. Winners learn from the past and enjoy working in the present toward the future.
–Denis Waitley
---
---
Inhale the future. Exhale the past.
---
---
Pain makes you stronger, tears make you braver, and heartbreak makes you wiser. So thank the past for a better future.
---
---
The longer you live in the past, the less future you have to enjoy.
---
Our life is short. Hence, let us make the best out of it. Make sure to do what makes you happy. But, if you do something, make sure that you will not regret it in the future. Your future is a result of whatever you do today. If at some point you failed or you get hurt don't let your journey stop right there. Learn from your failures and continue living towards a beautiful future. Don't let other people's discouragements keep you from planning the best for your life. Nobody can predict your future. But you can certainly work for it.