If you are looking for some best Happy Anniversary Poems for him or her, Here you can find some wedding or love anniversary poems with images. Wishing your loved one on an anniversary is a great way of refreshing your relationship. Wishing someone on special occasions means you do care her/him.
Hope you will find these marriage anniversary poems with pictures useful and exciting.
Happy Anniversary Poems For Parents
Here is a great poem that you may share with your parents, friends or any other couples.
---
On your  anniversary,
I'm wishing upon a star,
twinkling in the sky, so far.
May your love always grow,
every day, more and more.
May your marriage last forever,
and depart you may never.
May happiness come all day and night,
and may your lives be full of light.
Happy anniversary!
---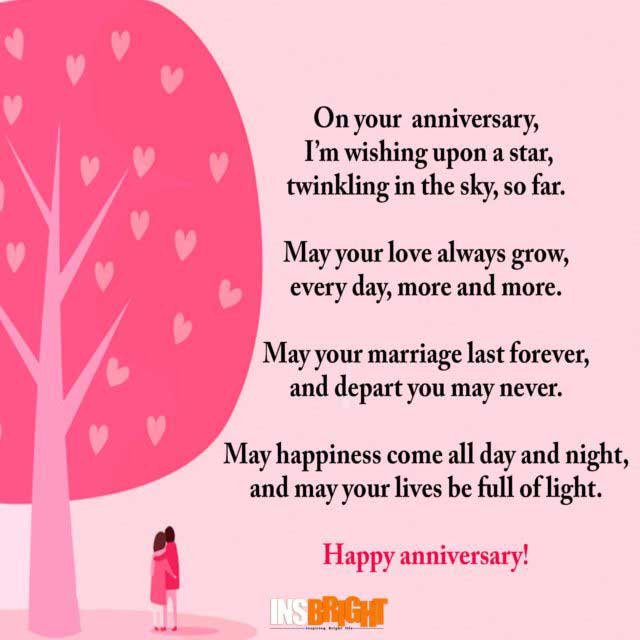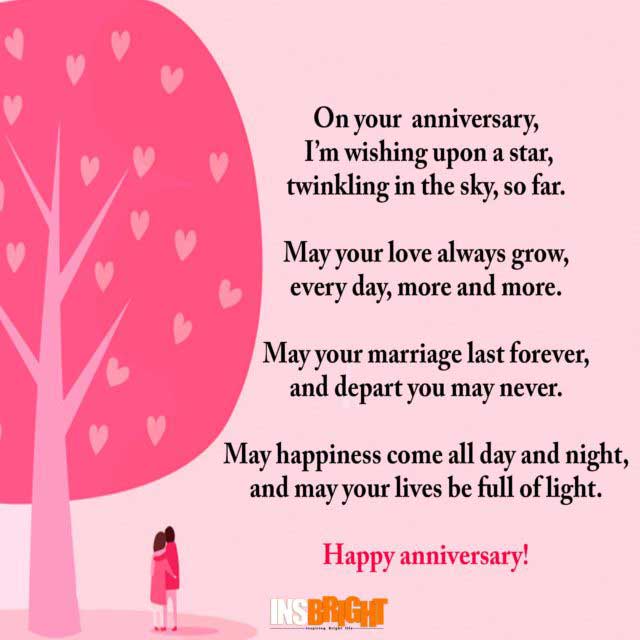 Happy Anniversary Poems for Boyfriend
Here are some amazing love anniversary poems to share with your boyfriend on Facebook, Whatsapp, etc.
---
On this very special day,
I'm sending kisses on your way,
wrapped in love, warmth, and bliss,
to reach your heart, eyes and lips.
I have an eternity in my mind,
to celebrate days of this kind,
'cause you can awaken my soul,
and make me happy and whole.
Happy Anniversary my love!
---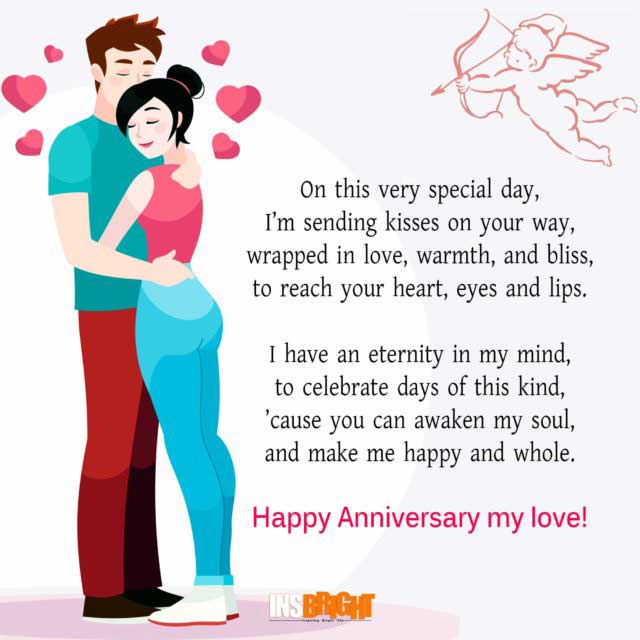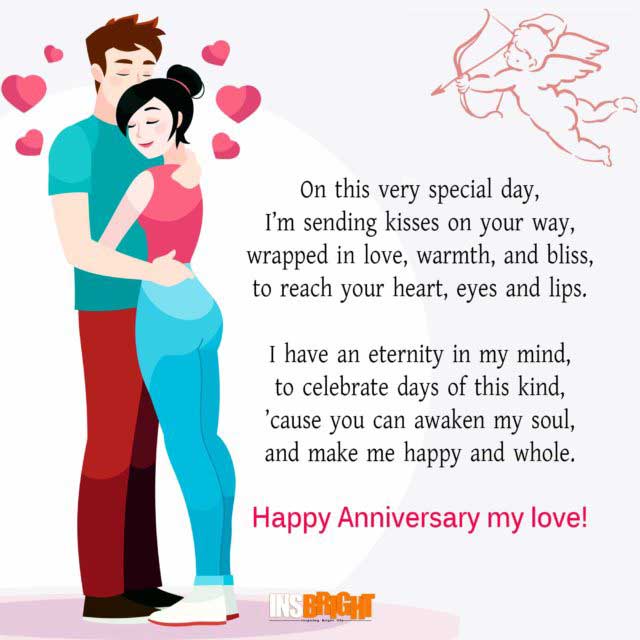 ---
When I close my eyes,
all I see is you.
Days are pretty and the sunshine,
for they're spent with you.
My love would never vanish,
as it's forever and true.
And my darling, I every day cherish
this day next to you.
Happy Anniversary!
---
Happy Anniversary Poems for Girlfriend
Here is a cute anniversary poem for a girlfriend. This poem will make her feel special to you.
---
Since I was shot with the Cupid's arrow,
I started loving you every day,
but quite less than tomorrow,
and way more than yesterday.
My craziness about you has worsened,
from the very first day,
for you are the only person,
to never give my heart away!
---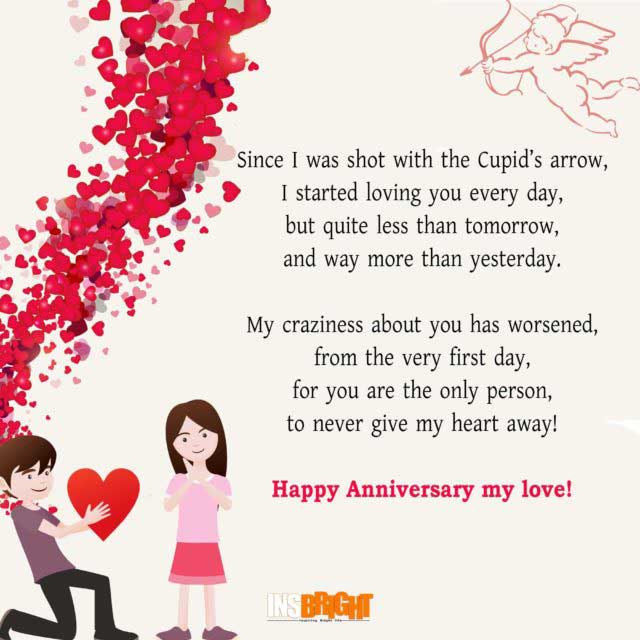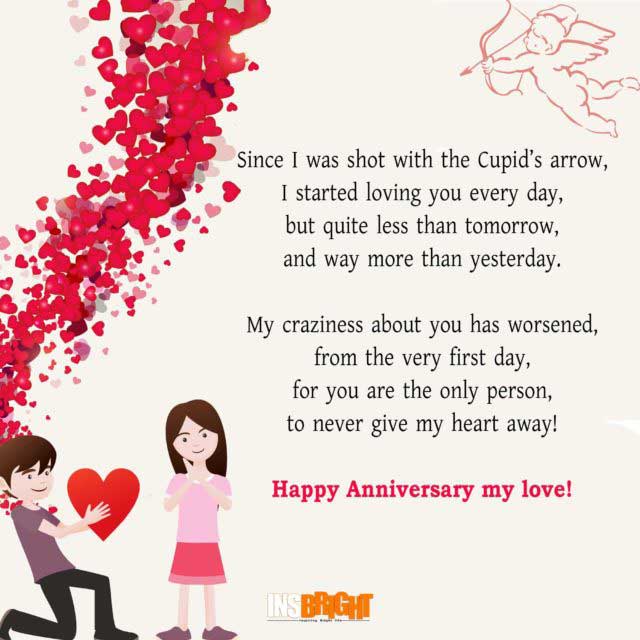 Happy Happy Anniversary Poems for Husband
A husband- Wife relationship is one of the best and sweet relationship on earth. You may share following poems with your hubby on marriage anniversary.
---
Ours is a love, blossomed with amity,
as I fell for your personality,
everything about you turned into a beauty,
even your smile and mind are so witty.
Before I were friends with you,
I teased you for everything you do,
about how lame was your part-time gig,
and that your eyes were almost too big.
All those teeny-weeny fights,
made me fall in love, then great heights,
and get married without any fears,
and stay married for long years!
Happy anniversary!
---
---
From the very first day, I did know,
that your presence is something I can't ignore.
You were born to be my husband,
and to make memories more than a thousand.
With unlimited happiness and laughter,
let's stay married, even in the hereafter.
So on our anniversary, all I wanna say,
is that, I won't let anyone whisk you away!
---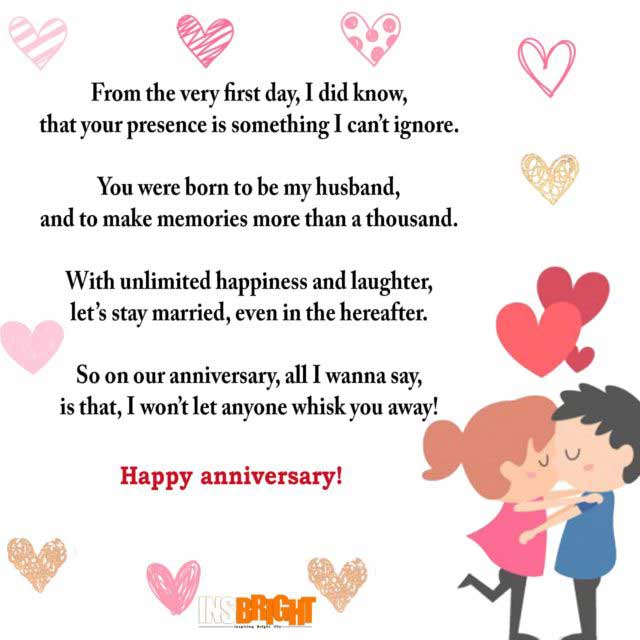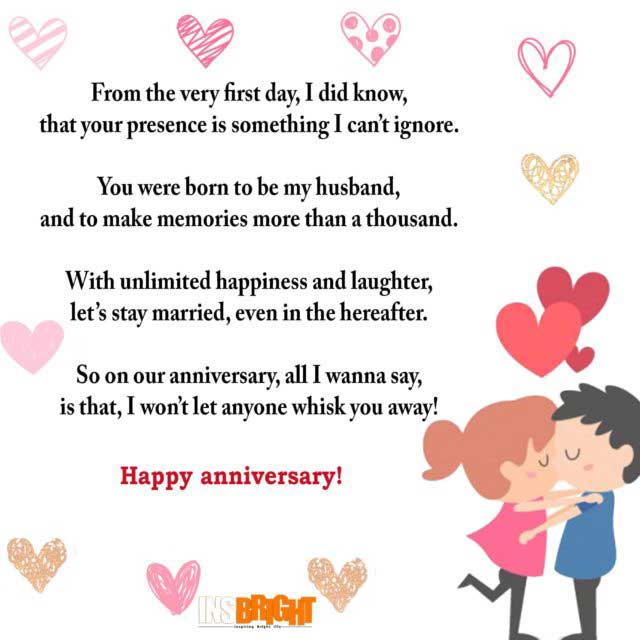 ---
Darling, do tell me how,
you made me fall in love,
for my heart was under lock and key,
and I had planned always to let it be.
Marriage was the last thing I had in mind,
but when I realized you are one of a kind,
all I wanted was to marry,
and so did we, in a hurry.
Darling, there's nothing I regret,
since that beautiful day we met.
Happy anniversary!
---
Anniversary Poems for Wife
Here are some cute poems for your wife to make her feel special on her wedding anniversary.
---
My loving, dearest wife,
you bring the sunshine into my life.
You attracted me with force like gravity,
and out went all my pride and vanity.
All I wanted was to make you mine,
and I knew without you; I won't be fine.
Today, here we are, happily married,
fears and worries, forever buried.
Thank you for being with me through the years,
sharing all my smiles and tears!
---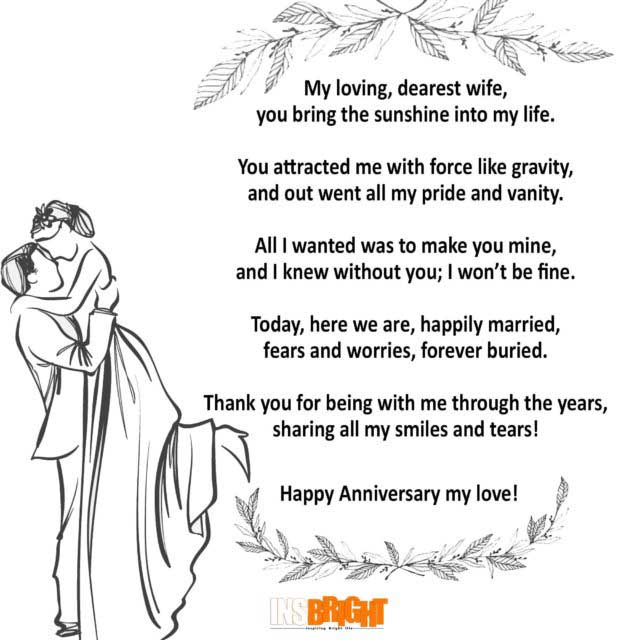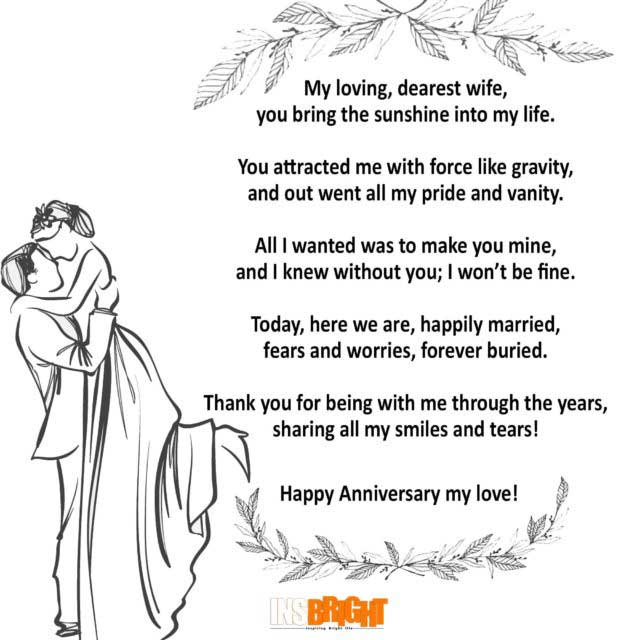 ---
Time stands still,
and forever it will,
when I'm with you,
loving everything you do.
But as we've reached today my love,
Time does seem to move,
cause this is another anniversary,
to celebrate and be happy!
Happy anniversary!
---
---
Decade after decade,
our love would grow, not fade.
'cause our love is eternal,
physical and spiritual.
On a blessed day like this,
I would seal your lips,
with a kiss full of love,
made only in the heaven above!
Happy Anniversary my sweetheart!
---
Hope you have liked these Happy Anniversary Poems images. If you do like any of them, don't forget to mention it here.