Do you love your wife? Do you think your life has changed with full of happiness as she came to your world? If you do, Her birthday must be a special day to you, and you are looking for some "cute birthday poems for wife" right now.
Because you want to make her feels loved or surprise her with the best birthday wishes poems on her birthday. That's why I have come with romantic happy birthday poems for your wife with images.
It would be a great pleaser for me if you do love or find using any of the poems posted below. You may share these happy birthday wishes poems or pictures with her on Facebook, Whatsapp, Instagram or any other of your favorite social media.
Now please enjoy the poems.
Happy Birthday Poems For Wife:
Here you will find some cute or romantic, sexy or naughty birthday wishes poems for your wife.
---
As I saw the twinkle in your eyes,
even the brightest starts paled forever.
As you flashed your radiant smiles,
even the rays of sunshine dimmed forever.
As I heard your melodic voice,
even the songs stopped sounding the same.
As I touched your velvety skin,
even the finest silk was put to shame.
And darling, when compared to our eternal love,
every other love story on earth would fade!
Happy birthday my sweetheart!
---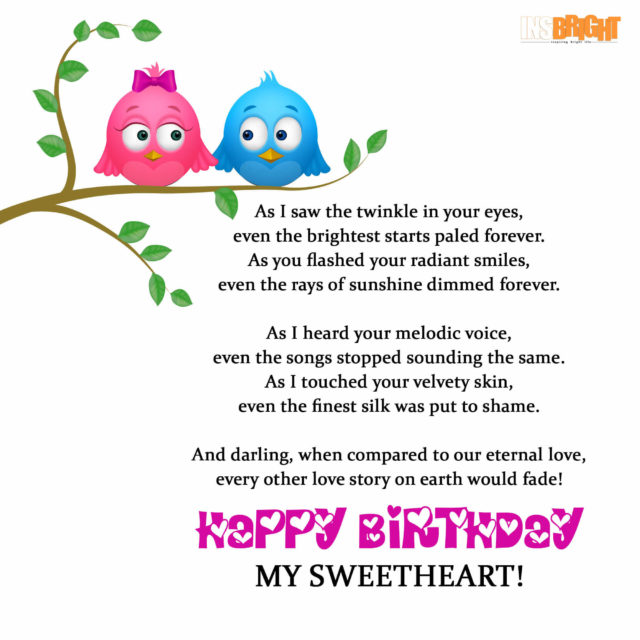 ---
Heaven is about tasting,
the berry of your lips.
Heaven is about sleeping,
grinding our hips.
Heaven is about loving you,
all day and night.
Heaven is about cuddling
with you tight.
Heaven is about being married
to you, all my life.
And I am wishing you,
a very happy birthday my wife!
---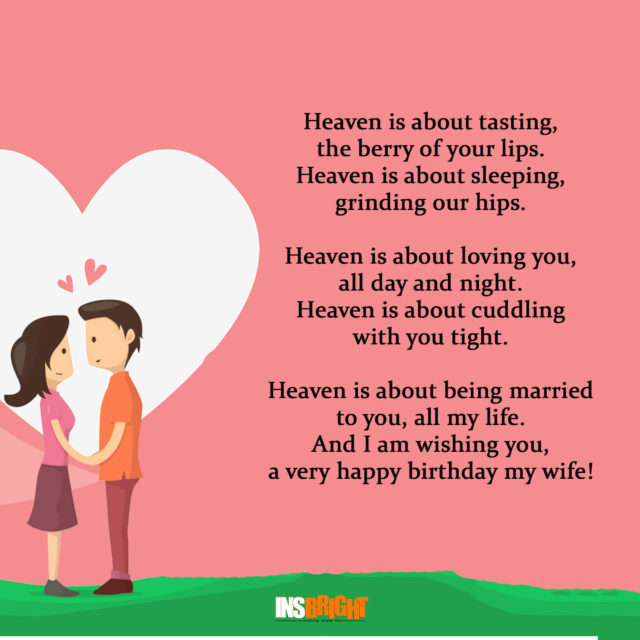 ---
Holding your hand warms my heart.
Kissing your lips ignites my soul.
Making a promise, never to depart,
I rely on you, to make me whole.
Another year, and another birthday,
an additional candle lights up the cake.
Need not to count those candles today,
So just enjoy the glow they make!
May this birthday be the best day of your life!
---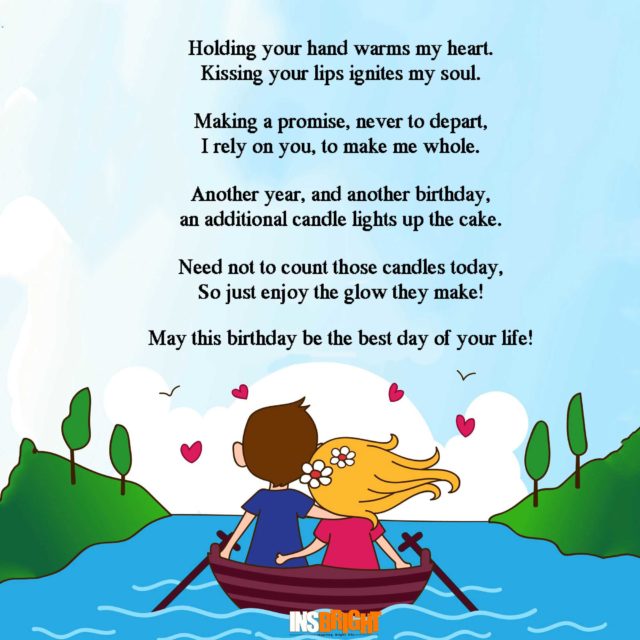 ---
My sweet, beautiful wife,
You always have been,
and forever will be,
the sole love of my life.
On your wonderful birthday,
I wish from my heart,
merriment and content,
to be right on your way!
Please do put the kids to bed,
and make sure they sleep tight,
for I have made plans,
to whisk you away tonight!
---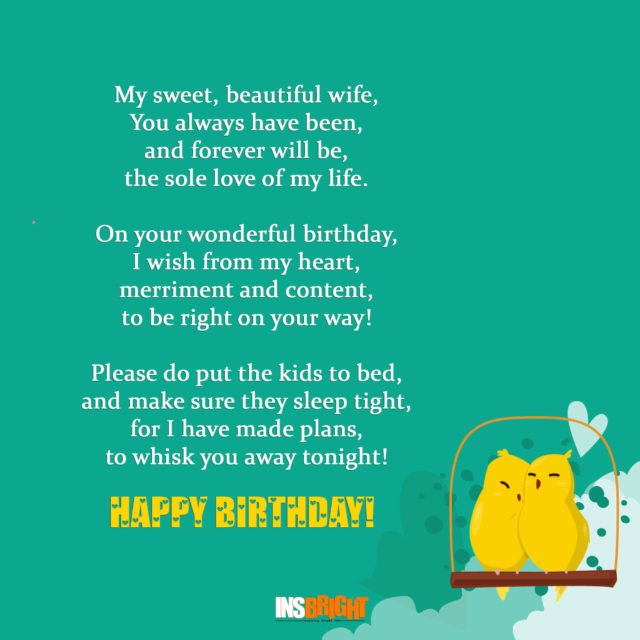 ---
My angel descended on a day like this,
the heavens cried for what they would miss,
as you are an angel like no other,
a beauty inside and out.
I was lucky to have found you first,
and even luckier as we fell in love.
Laughter crackled with your mirth,
and you made me the happiest man on earth.
One fine day, as we tied the knot,
I pledged to keep you safe and sound,
and always to resist our every strife.
For you are the best and sweetest wife!
Happy Birthday my angel!
---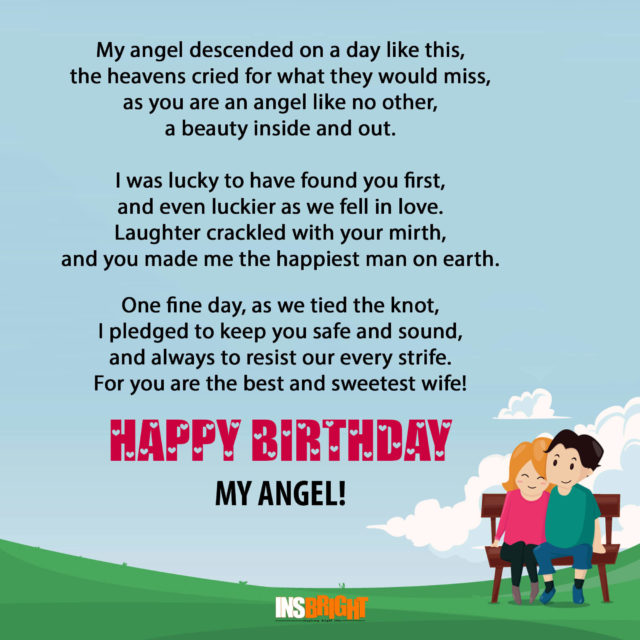 Animated Version of This poem: My angel descended
---
Happy birthday to my darling wife,
who has become the center of my life,
I always love when this day is here,
As it's another reason to hold you near,
another moment for special embraces,
another reminder of your good graces,
another day to love you more,
and another day to thank God for!
May this day bring fond memories,
that would last life long!
I love you my love, one and only.
---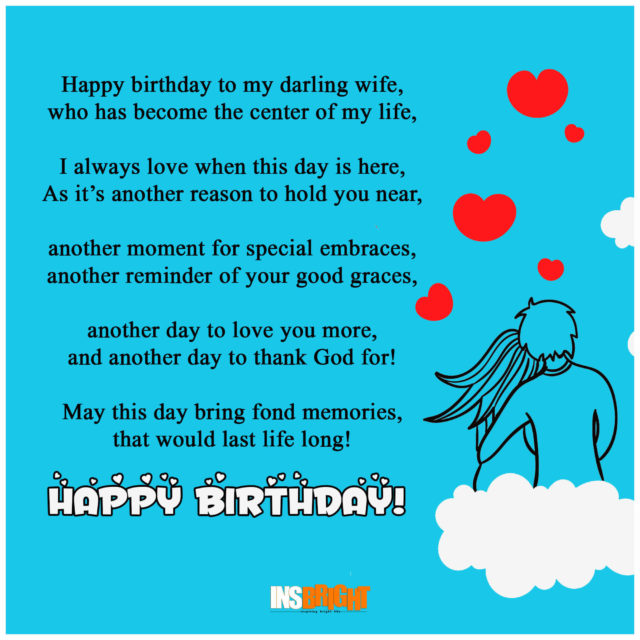 ---
Love is a beautiful feeling,
for it is you, giving it.
My heart in never reeling,
for it is you, holding it.
Every day has turned wonderful,
for they are spent with you, my love.
And today is especially colorful,
for it is the birthday of my dove.
Happy birthday!
---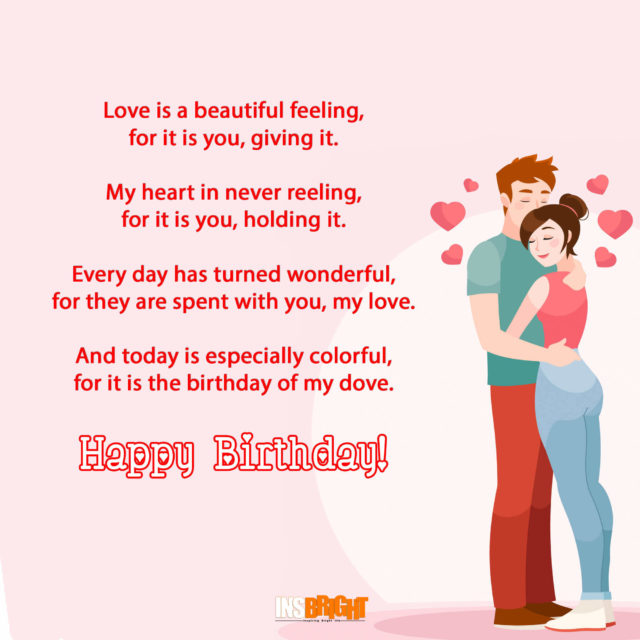 ---
Happy birthday to the best wife,
in the whole wide world,
and I would never trade you,
for any amount of silver or gold.
Still, my heart does the flip-flops,
whenever I look at you,
and I will love you for an eternity,
just like you love me too.
May this day shower you
with abundant happiness!
---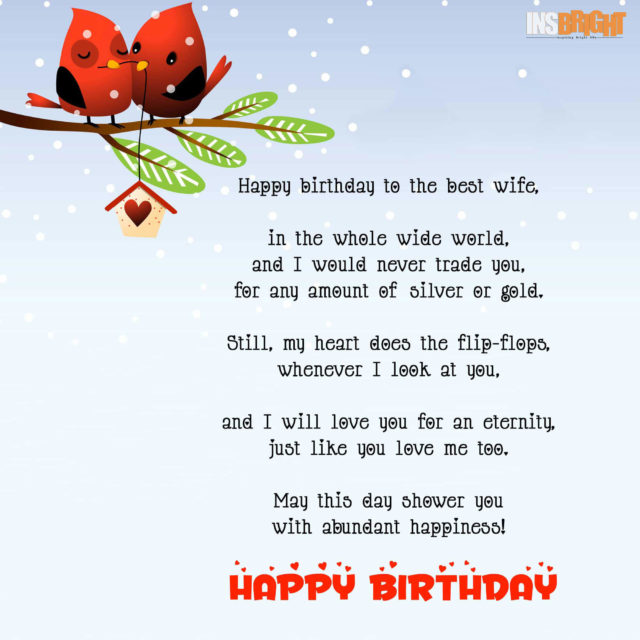 ---
Happy birthday to my passionate,
and ever loving soulmate.
You have bewitched my heart,
from the very first day.
Whereas no other, beautiful or smart,
could win me in any way.
Was it your eyes,
that rooted me to your soul?
Or was it your voice,
that makes me alive and whole?
Perhaps it's everything about you,
that makes me feel the way I do!
Happy birthday once again my wife!
---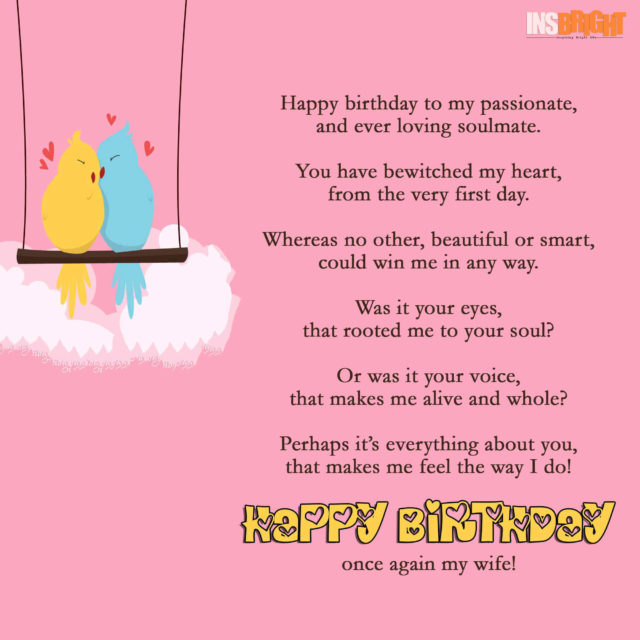 ---
Happy birthday to my beloved,
who is the reason behind my smile?
You are more precious than a diamond,
and you make my life worthwhile.
Meeting you was the best thing,
that has ever happened to me.
You were my princess, and now the queen,
and forever will be!
I will love you,
throughout my life,
and in the hereafter too.
---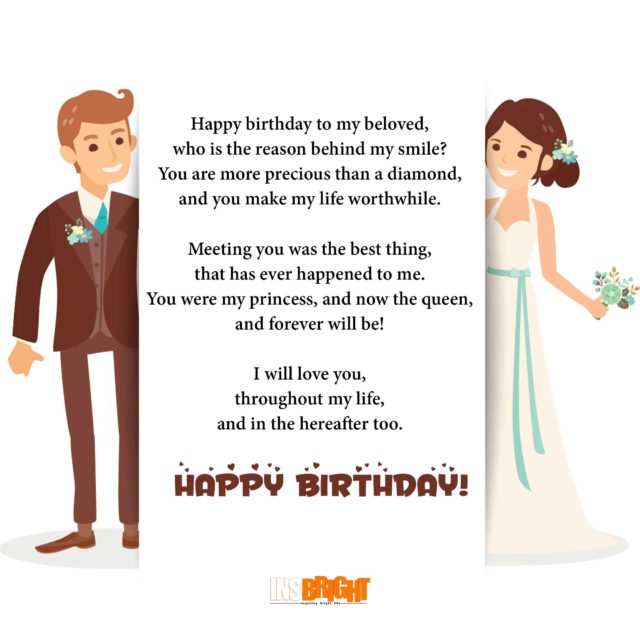 Animated Version of This poem: To My Beloved
Hope you have found your favorite one from this collection.
For More Animated Happy Birthday Wishes Video, Visit: Wishing Bee