Are you looking for some short and inspirational good morning poems for him or her? Here are some best good morning images with poems for your boyfriend/girlfriend or husband/wife or ever for your friends or any other family members.
Cute Good Morning Wishes Poems for him/her
You are free to share these cute and short good morning wishes poems on your favorite social media and let your special person know that you care about him/her.
---
Good morning my sweetheart.
May this beautiful morning,
Turn into a blessing,
Filled with warmth,
Happiness and mirth.
May it bring reasons too,
Succeed everything you do,
With joy by replacing sorrow,
For today, and tomorrow,
And forever.
---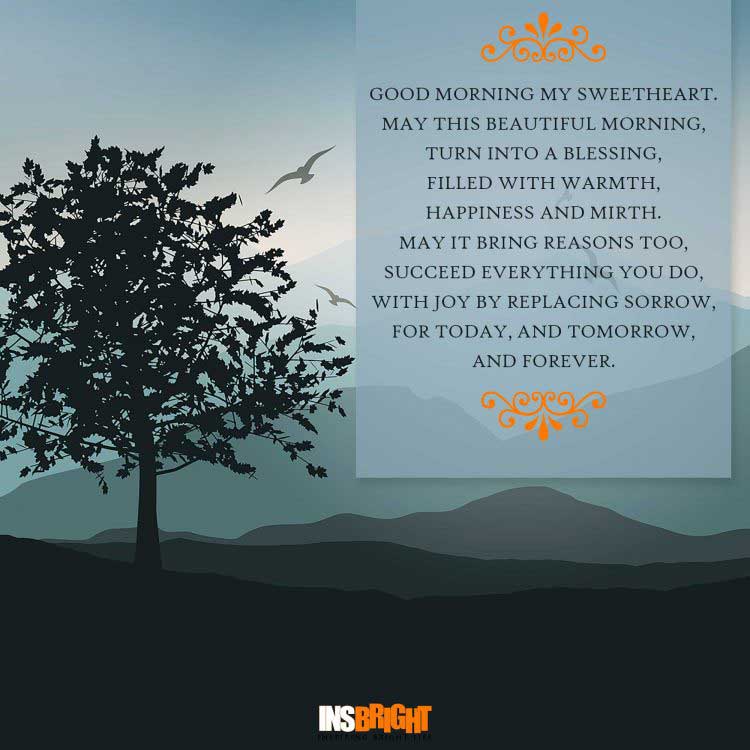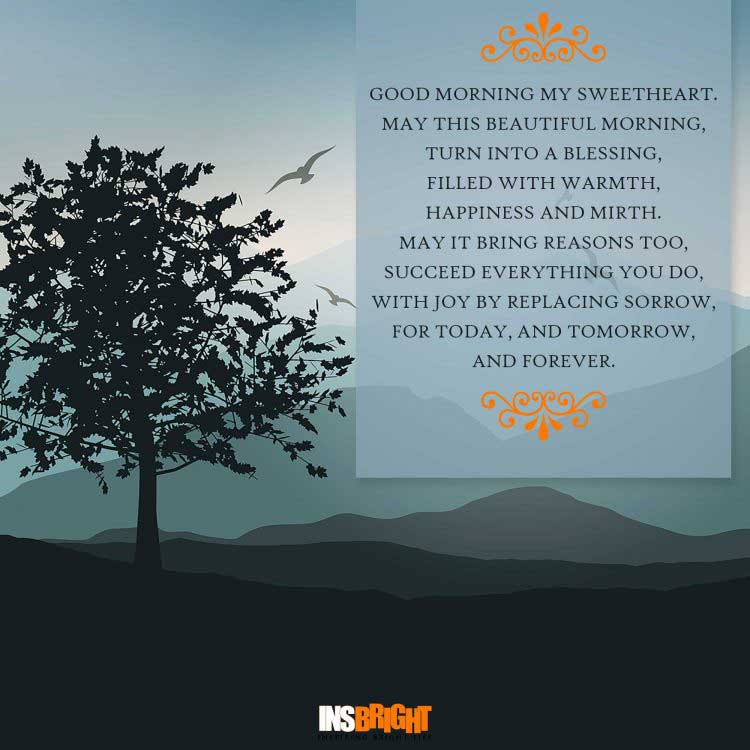 ---
Today is gonna be crazy,
as it is a busy working day.
But I'm feeling a bit lazy,
So still on the bed, I lay.
But baby I wanna greet you,
A good morning today,
and I so wish you knew,
how I miss you every day.
Have a great day my love!
---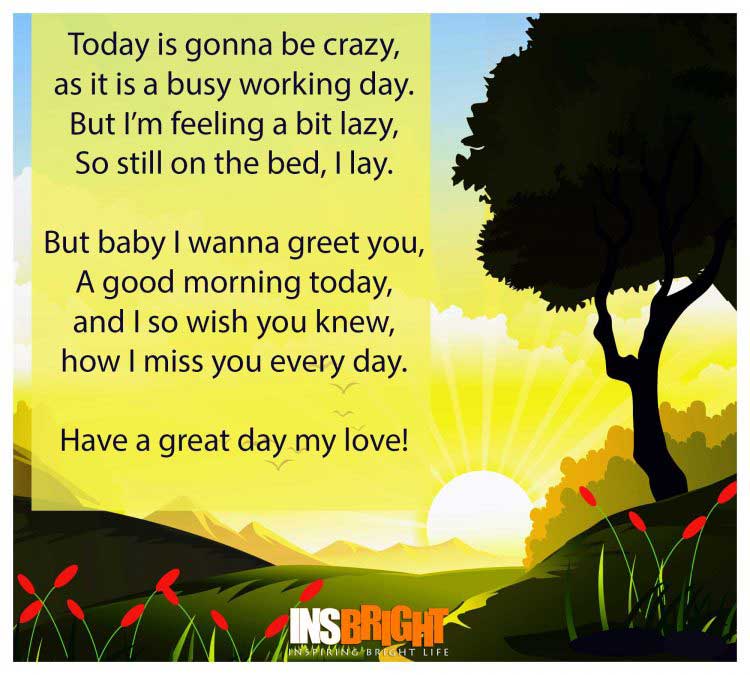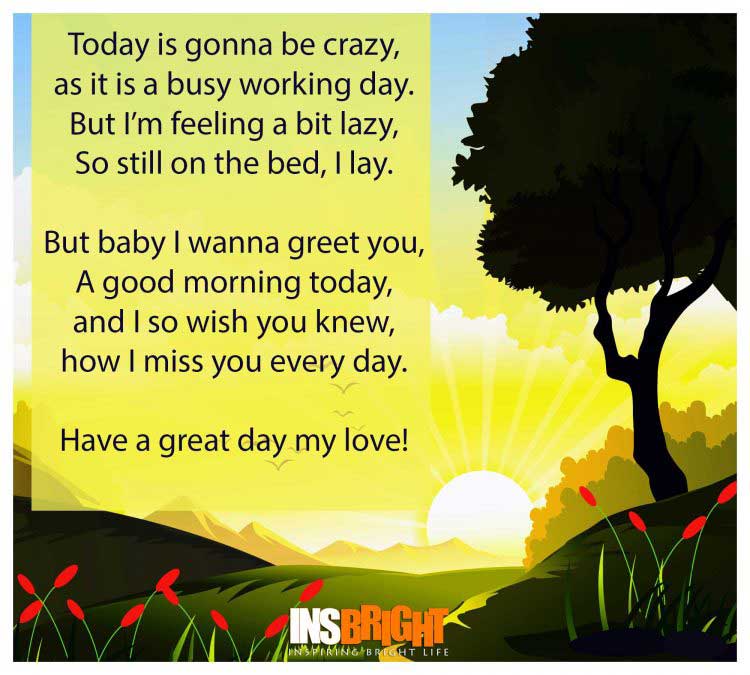 ---
Baby, I will not trade you,
Even for a precious pearl,
For you are my only love,
And my whole wide world.
You bring beauty and the sunshine,
Into my otherwise dull life,
By nothing but being mine,
And a wonderfully sweet wife.
Good morning sweetheart!
---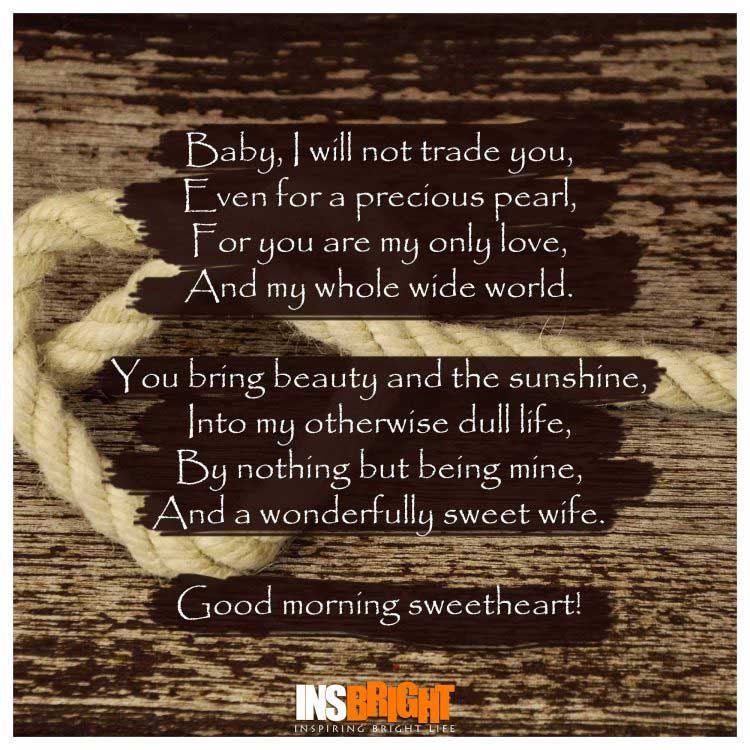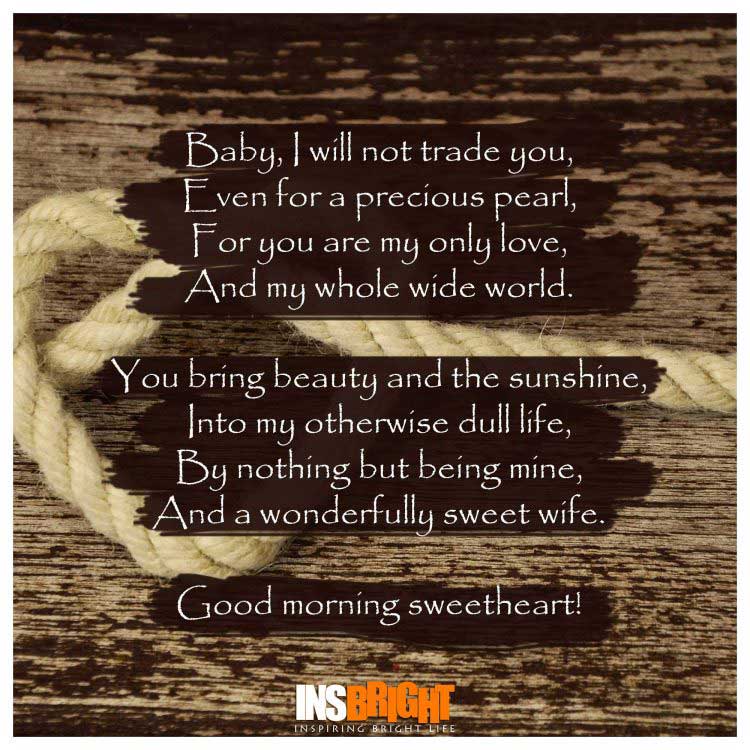 ---
I've waited until we wed,
to lie next to you on a warm bed,
and shower you with a kiss after kiss,
filling our hearts with complete bliss.
Your happiness radiates like sunshine,
I'm addicted to you, not wine,
and Lil by Lil when it's dawning,
it makes me wanna hug you all morning.
And wish you an incredibly great day,
that would send all joy on our way!
---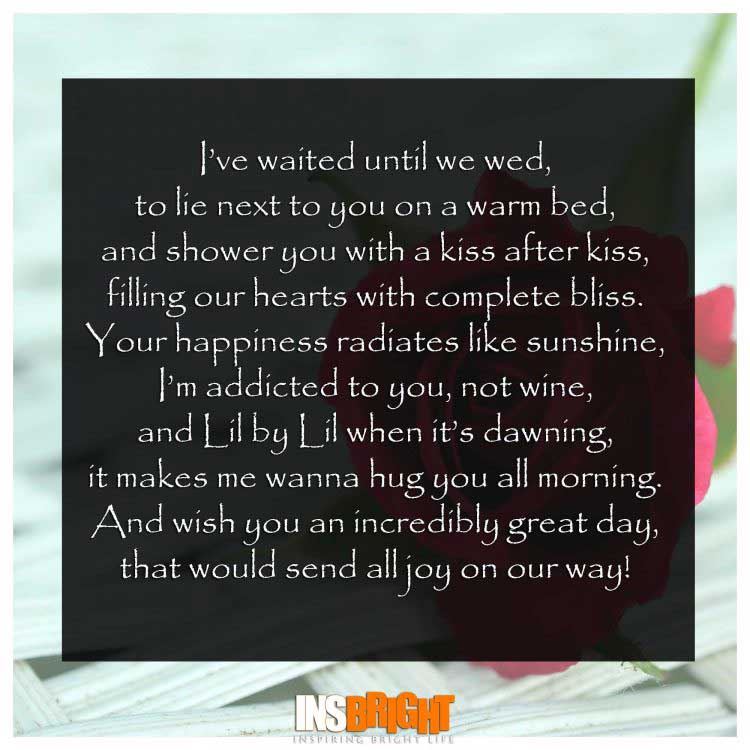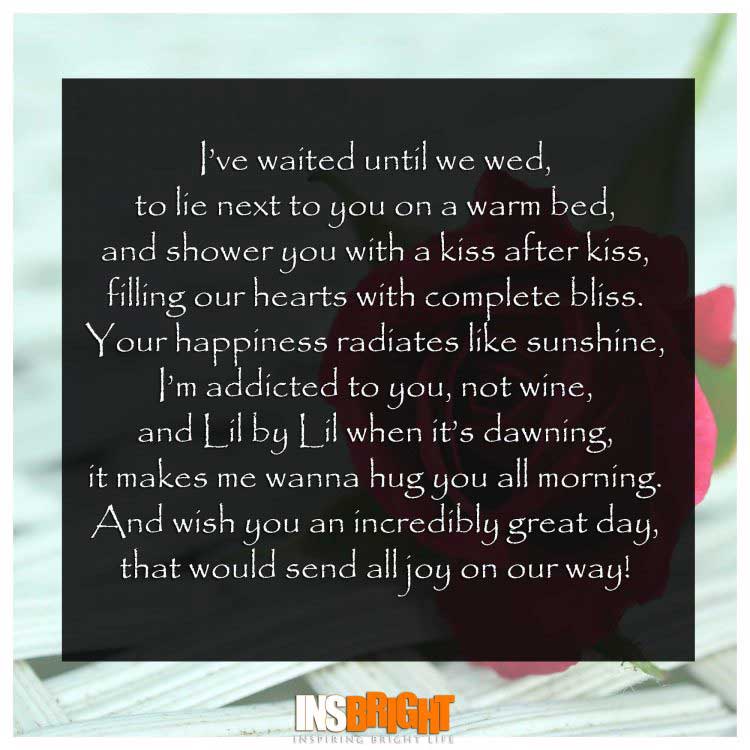 ---
I see my world through your beautiful eyes,
Next to you is where my heart lies,
For you are my one and only love,
A pure gift, thanks to the heaven above.
And it grows for you, year after year,
Cause you're the one I hold so near.
Finding you was solely a God's blessing,
and baby I wanna wish you a good morning.
May it lead to a day full of promises,
and much love, hugs and kisses.
---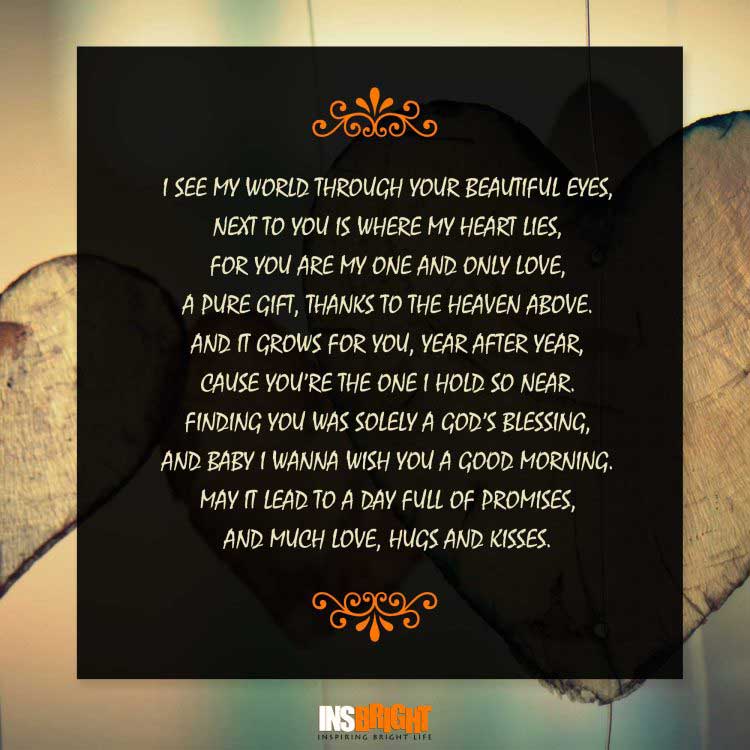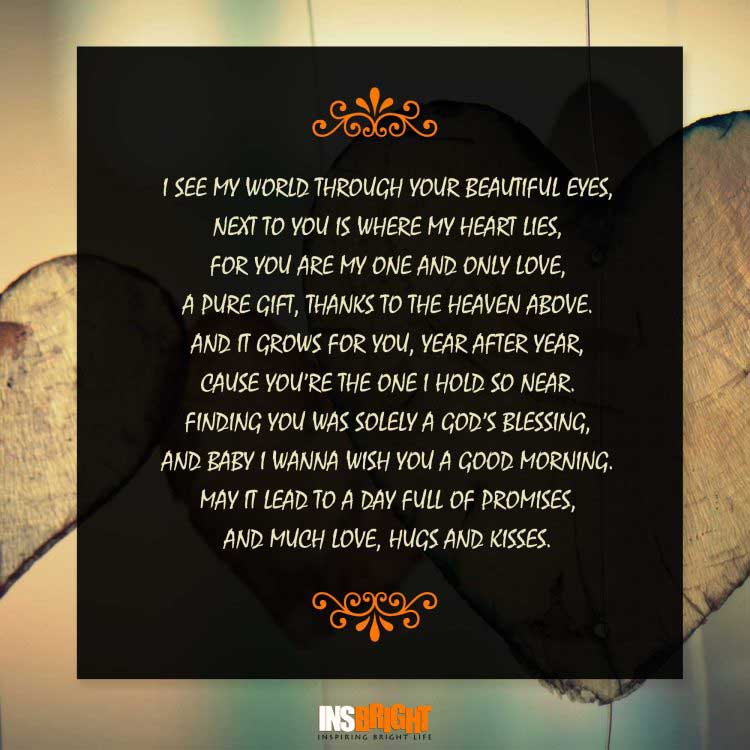 ---
Baby,
On this wonderful morning,
I found myself day-dreaming,
About the heady scent of your skin,
And the cute dimple on your chin,
For I miss your sweet, beautiful face,
And your warm, loving embrace.
Wish you were here right now,
To fill my heart with more love,
And touch me with your warmth,
And make me happy with your mirth.
But here I wish you,
A good morning my love.
---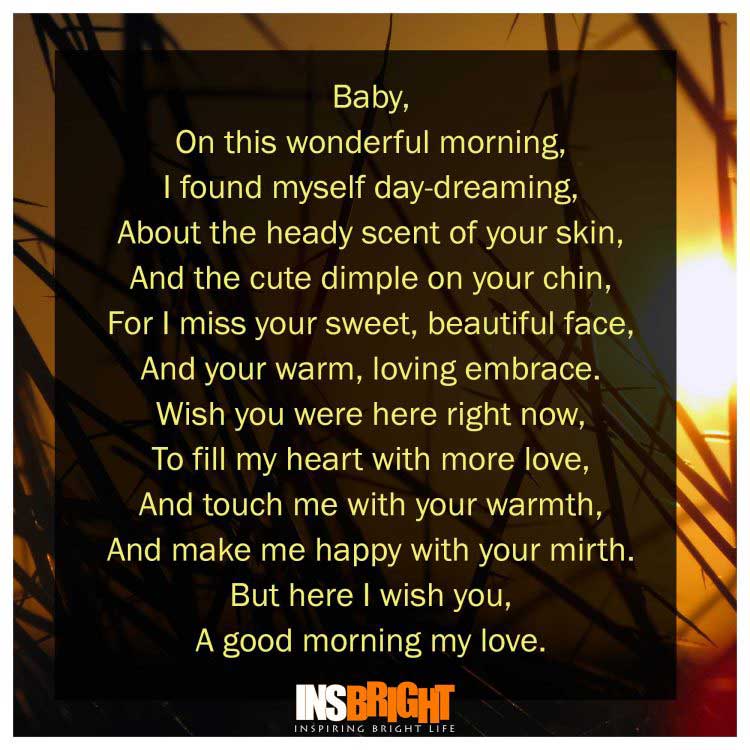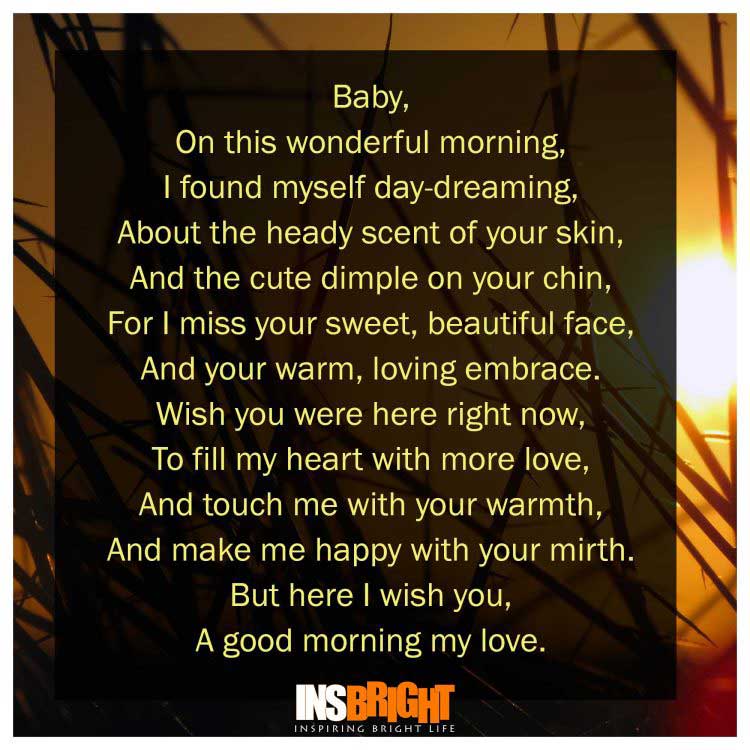 ---
Good morning my darling,
Cocooned in your warm embrace,
I wanna rain kisses on your face,
And on your skin, I shall trace,
Maps through numerous ways.
Should I tell how much I love you,
Or perhaps you already knew,
From the very first day we met,
Which was a miracle of our fate?
---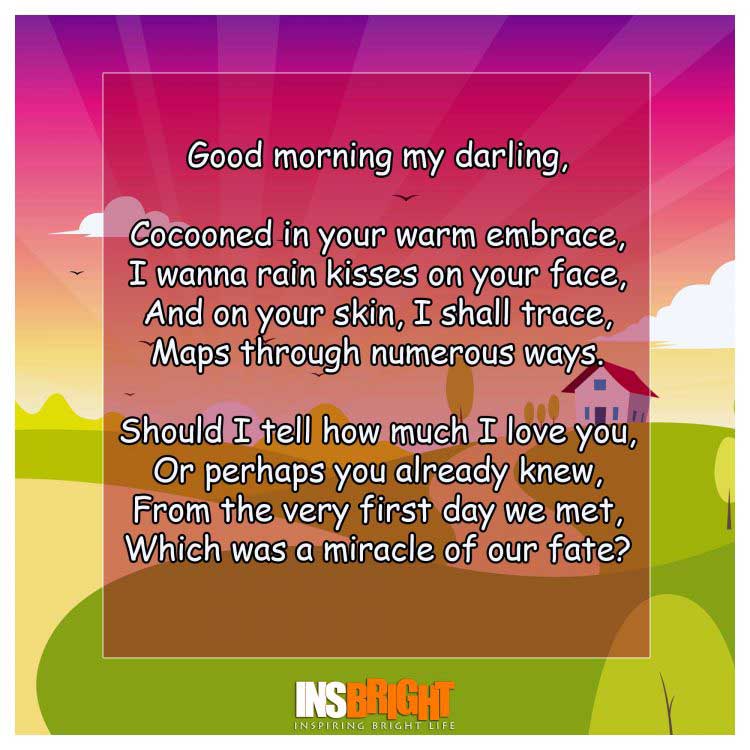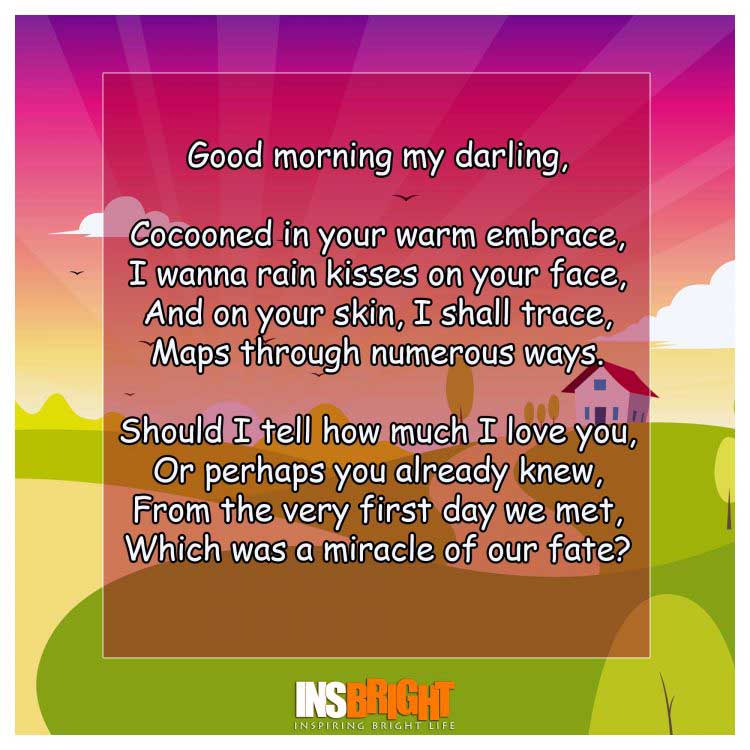 Hope you have liked these good morning images with poems.