Valentine's day is near You must be looking for some cute valentine's day poems for him or her. Sometimes simple wishes may mean a lot to your partner. It may say you care about her or him. Caring and sharing both are vital for a healthy relationship.
Here I have posted some sweet valentine's day images with poems. Have a look at them and if you like any of them, you are free to share them on Facebook, Whats App, Instagram or any other of your favorite social media network with your boyfriend/husband or girlfriend/wife.
---
You are the silver lightning, in every dark cloud,
You are the reason why my heart is beating loud.
You are the golden rose, in a yellow rose garden,
You are the love of my life, pure and maiden.
You are the queen bee, in a massive bee hive,
You are the one, who is keeping me alive.
You are the glowing moon, in a dark, lonely sky,
You are the angel, bringing me constant joy,
You are the gift; I would treasure but never give away,
So, darling, I wish you a Happy Valentine's Day!
---
---
Valentine's Day is here my love,
Angels are singing from the heaven above,
Red roses are dancing as they are being plucked,
Cupid is searching for targets to be knocked,
New flavors and shapes of chocolates are made,
For diamonds and gems, millions are paid,
Gifts are wrapped and sealed with kisses,
Lovers await the dawn to exchange wishes,
But for me, every day is like Valentine's Day,
for I cherish you, every passing day,
But anyway, Happy Valentine's Day!
---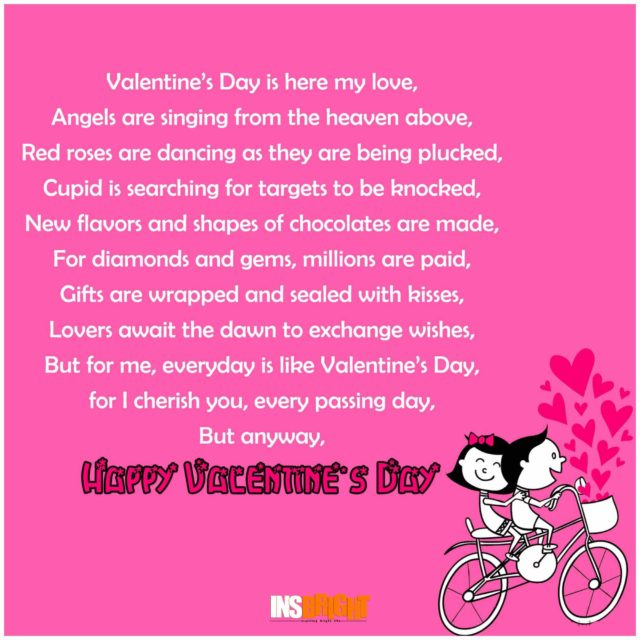 ---
My love for you grows.
It always grows.
Like a tiny seed,
growing into one large tree,
like a wild seaweed,
spreading across the whole wide sea,
like a massive air balloon,
stretching to its capacity,
like a flower in June,
blossoming with audacity,
my love grows.
For you, it grows.
Happy Valentine's Day!
---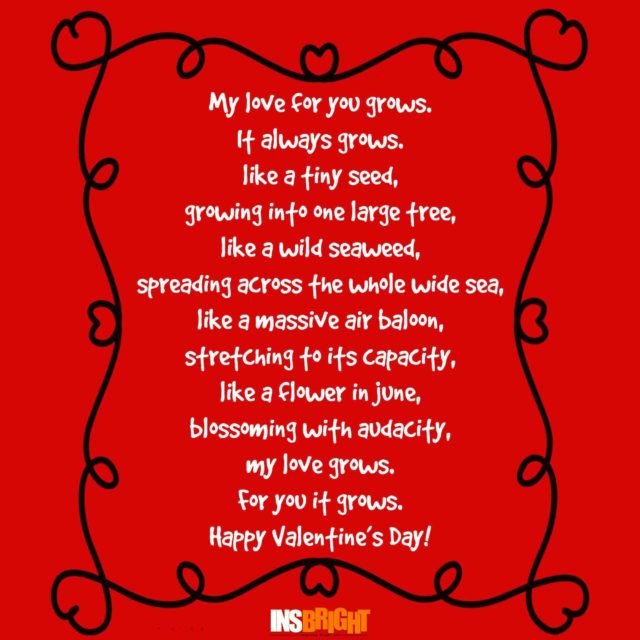 ---
Your laughter is the melody ringing in my ears,
Your care is always felt in my heart,
Your love is cherished over the years,
Your eyes, I've fallen for them from the start.
Your name is a continuous whisper in my mind,
Your lips are capable of awakening my soul,
Your heart is a precious one of a kind,
Your love, to be won forever is my goal.
My prince,
With you, for an eternity I would stay,
With this vow, I wish you a Happy Valentine's Day!
---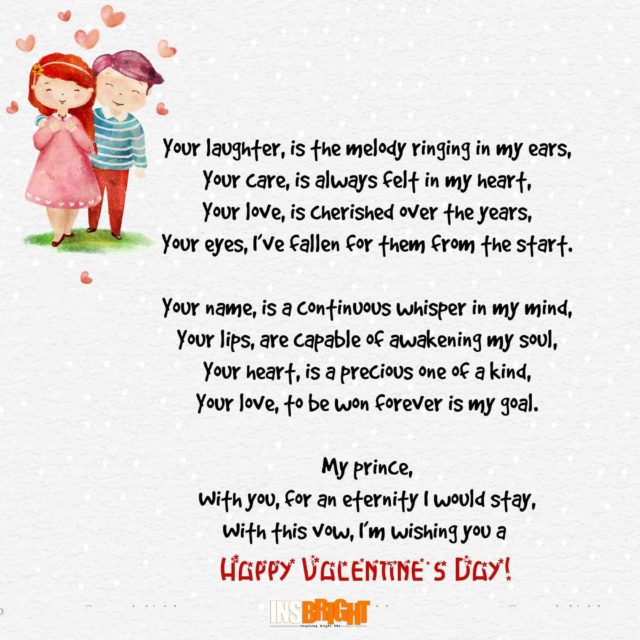 ---
Remember on our last Valentine,
You threatened me to call the cops,
Because I have committed a crime?
I couldn't have been more shocked!
When I questioned what it was this time,
You criticized that I've stolen something,
precious and kept under lock and key,
Confused, when I asked again what it was,
You pushed me to a corner, kissed me hard,
and told me that it was your heart!
---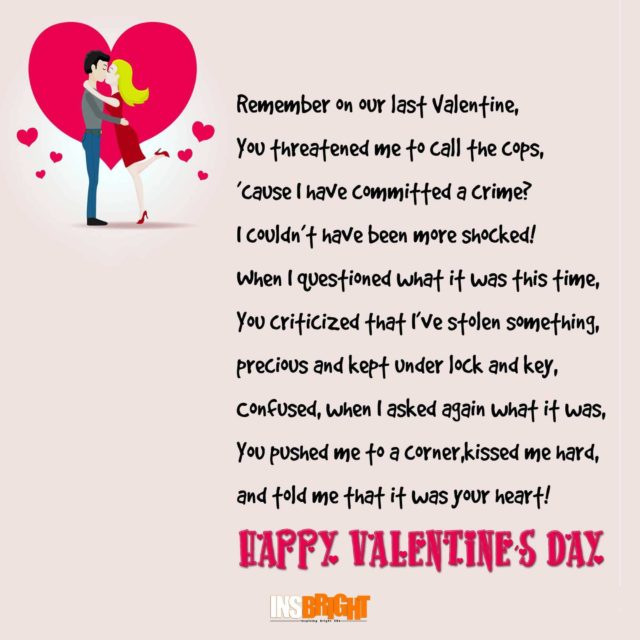 ---
Wish I could send you all the twinkling star in the sky,
Or hundreds and thousands of lightning firefly.
Or just could pick the moon peeping through the clouds,
Or built you a castle far from the maddening crowds.
But alas! Alas! Oh, my girl! I know no magic;
Though possess a pure heart, unquestionably romantic.
That heart is truly precious, invaluable to me,
Because there I keep my princess, my love, thee.
Hence in this special day of Valentine,
I'm giving you all the love in my heart;
That love is true, deep, divine and vast,
Love that I only nourish for you, my Sweetheart.
---
---
When I first saw you, I knew you are the one,
The most beautiful, and unique among the ton.
I could not help gaping when you smiled,
for my heart did not stop beating wild.
Your expressive eyes and flawless skin,
I knew worth dying to win.
As I got to know your attitudes better,
I fell more in love, even with your sweet chatter.
And baby, when you admitted your feelings for me,
I drowned in happiness, knowing we are meant to be!
Happy Valentine's Day my love!
---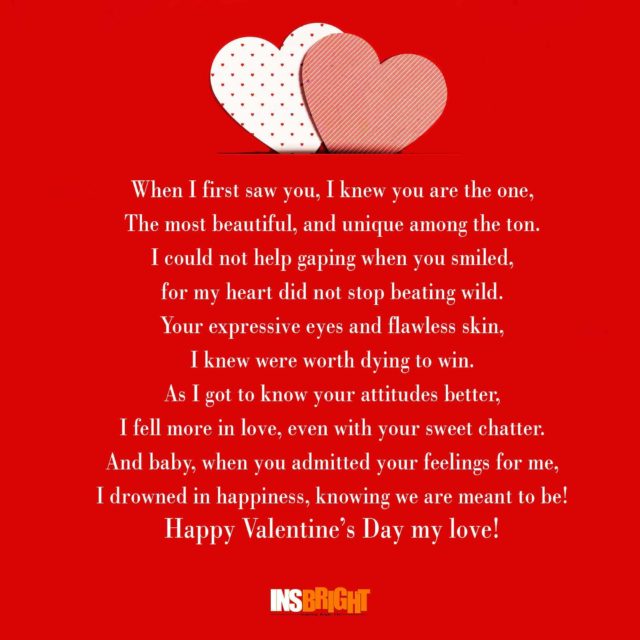 ---
When I have the warmth of your smile,
I will never want the sunshine.
When I taste a sip from your lips,
I will never want any wine.
When I smell the fragrant of your skin,
I will never want any cologne.
When I am the reason for your bliss,
I will never make you mourn.
When I have the treasure of your heart,
I will safeguard it, for it is mine.
And when I have a day like this at hand,
All I wanna say is 'Happy Valentine'!
---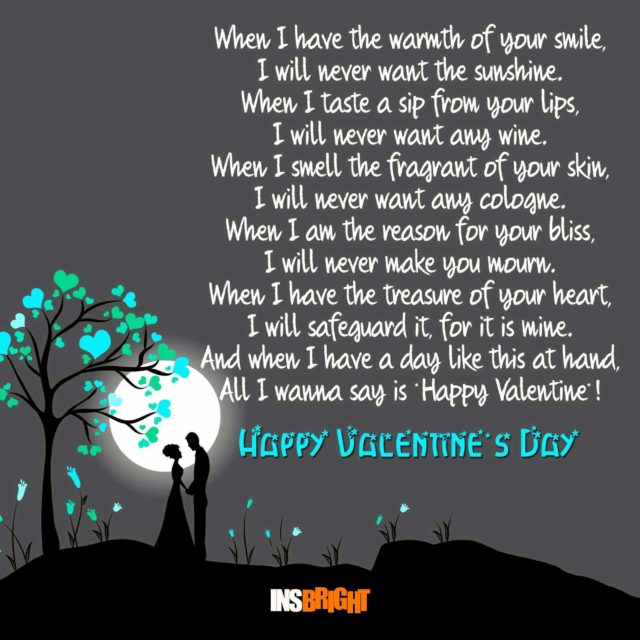 ---
I could paint this wish on the sky,
but the clouds would hide it away.
I could carve this wish on the shore,
but the waves would wash it away.
I could sing this wish to the world,
but the wind would blow it away.
So I will seal this wish on your lips,
and forever it would stay!
Happy Valentine's Day my love!
---
---
My dear, on this Valentine's eve,
I promise you I will never leave,
I promise you with a soul-drenching kiss,
to fill your heart with complete bliss,
I promise you an eternal love,
made only in the heaven above,
I promise you to make you smile,
even when I'm old and senile,
I promise you to take your hand,
and in every country, to make you land,
I always promise to hold you near,
and all the promises, I will keep my dear!
---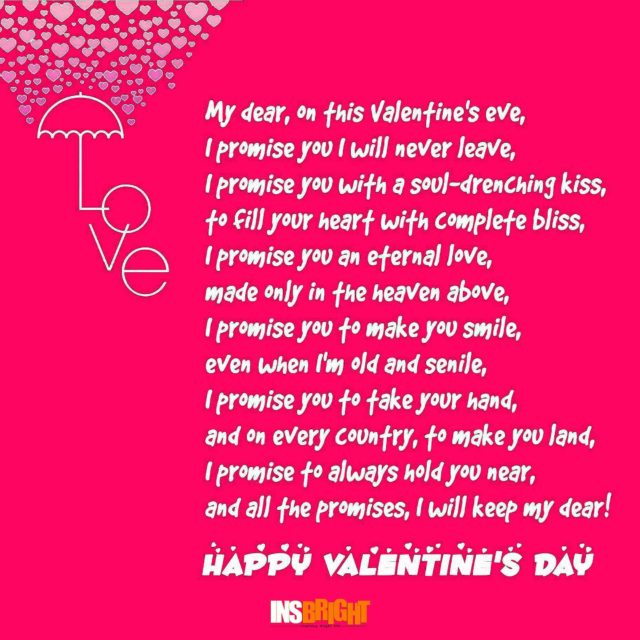 ---
Darling,
Can you count the stars up so high?
Or the raindrops falling from the sky?
Can you count the ocean's pebbles of sand?
Or the hair on your head, strand by strand?
Can you count the leaves on every tree?
Or reach for the horizon you see?
Can you count the ants in anthills?
Or the sea water as a measure of gills?
Darling,
Just like everything adds up to infinity,
So is my love for you, it's infinite.
Happy Valentine's Day!
---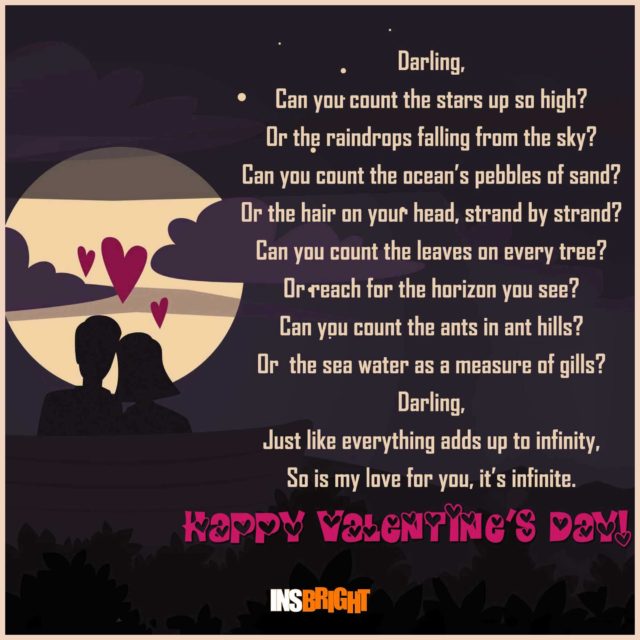 Hope you have enjoyed this post of cute images for a couple of valentine's poems.