Are you frustrated with your life because of any physical barrier? Have you heard the name of Nick Vujicic, a motivational speaker without limbs? No! then read Nick Vujicic Biography. Trust me; it's a must read for you."Disability is not inability", so goes a famous saying. It is easier said than done.
When you ask a physically challenged person how easy he can put the above into practice, he will tell you that it is tough. Life seems unbearable for physically challenged people when they compare themselves with the healthy humans. They find themselves incapacitated due to their disability.
But with a strong willpower, one can come out victorious and live an exemplary life. Let us take an example of Nick Vujicic, who was declared a vegetable on his birth table. Now, Let me introduce Who is Nick Vujicic?
Nick Vujicic Biography -Motivational Speaker Without Limbs
Nick was born on December 4th,1982 in the town of Melbourne, Australia. His birth names were Nicholas James Vujicic. Nick is his nickname. He is 3'3", which translates to 0.99m. His parents are Boris Vujicic and Dushka Vujicic. They bore a healthy baby; the only limitation was that he lacked arms and legs; instead of having legs, he had two tiny feet, and on one of the foot, there were two toes. He has two healthy siblings; Michelle Vujicic and Aaron Vujicic.
Vujicic's parents were born in Serbia; his father Borislav Vujicic left in 1969, his mother Dusanka in 1964. His mother was a midwife who knew everything about birth. She had done all the ultrasounds, and it was a shock to everyone one when he was born without limbs. On the morning of his birth, his father was around, and when he saw what was coming out, he nearly fainted and vomited and the nurses had no option but to take him out of the delivery room.
Everyone ruled him as a vegetable on his birth table. It took his mother over 3months to accept him, thanks to his dad who declared him handsome and convinced his mother to take him home with them.
His disability was a barrier for him to get admission in mainstream school due to a Victoria state law, but later, this law was changed, and he became the first physically challenged child to be admitted to a mainstream school.
After admission in the mainstream school, there was another setback; he became the target of ridicule and bullying from other students. The ridicule was too much, and it led to this great man, when at the tender age of 8 years, contemplated committing suicide. It was as a result of a very severe depression; he was suffering from. The same happened when he reached age ten years. While taking his bath, he tried to drown himself but changed his mind due to the love he felt for his caring parents.
Nick's main prayer in his early years was for God to give him legs and arms so that he would be like any other ordinary person. He even vowed to God that, if his wish was not granted, then he will not praise God at all. This perception changed when one day, his mother came home with a newspaper cutting which detailed a situation of another man, from a different part of the world, who was dealing with a severe disability. It made Nick realize that he wasn't alone in this world with disabilities.
It was a turning point for Nick. He began to accept himself the way he was and vowed to praise God and make a difference in the world. He could do the expected; things which only people with limbs can do; things like writing using his toes and supporting the pen with a special grip that his big toe offered him.
When it comes to technology, Nick is not left behind; he is in a position to type up to 45 words per minute on a computer. This is facilitated by the "heel and toe" method. What else can Nick do? He can throw tennis balls; he can hold a glass of water; he can comb his hair; he can brush his teeth; he can play drums pedals; he can swim; he can participate in golf; can answer a telephone call; he can even skydiving.
He studied high school at the MacGregor State of Queensland; elected as a school Captain; he did fundraising for local charities in conjunction with student council. His non-profit making organization of Life Without Limb was born from his skill of giving talks at prayer groups while he was 17 years of age. Now at 32 years, he is the founder of the Los Angeles-based Life Without Limb where he gives motivational talks to give hope to those born with different disabilities and other challenges in life.
In 2005, Nick had a breakthrough by pocketing a prestigious award in Australia; the "Young Australian of the Year". 2012 was another happy year for Nick as it happened that, on the 12th day of February 2012, he married his fiancée, the love of his heart, Kanae Miyahara. On 13th February 2013, a baby boy was born to them, and they called him Kiyoshi James Vujicic. He was a bouncing, energetic baby who weighed 8 pounds, 10 ounces on his birth table. A second, Dejan Levi, was born in August 2015.
What is the mindset that made Nick become what he is today? It was a positive mindset where he believed that you do your best and trust God and never give up. His home was his refuge; any time a kid laughed at him or excluded him from a game, he felt like a write-off. But when he went home, his parents told him to ignore the kids at school and reassured him that they will never give up on him. It alone worked a miracle of restoring his confidence in life. It is what has led him to be the best-selling author and motivational speaker.
Some of the books published by this great man are; Life Without Limbs: The Incredible Power of Faith in Action, Love Without Limits: A Remarkable Story of True Love Conquering All and Stand Strong: You Can Overcome Bullying: Inspiration Of a Ridiculously Good Life, Unstoppable. He has traveled in over 58 countries across the world, covering 3 million miles. He has spoken to world leaders, orphans and disadvantaged and forgotten people in the world over.
Though some may argue out that Nick was able to overcome the challenges of disability due to him born in a wealthy family and nation, that is not true. There are several physically challenged people from a wealthy nation who are dying from self-pity. What made Nick be what he is today is the strength and hope; the willpower he possessed – his attitude towards life. He is the pillar of physically challenged and other disadvantaged people across the globe, to live a normal and fulfilling life. He has no limbs, yet he does so much more than those who have limbs and arms. This in itself shows that your dreams are valid no matter what. He has a self-drive that is depicted in his books. He takes out the positive in life and doesn't give up until he achieves whatever he yearns for.
Accepting oneself the way you are is the first step in leading a fulfilling life. See yourself as an excellent individual no matter what limitations you are facing. Don't look at the failures you have had in life, but look at how you overcome each failure. From Nick's life we learn that when you keep on trying, there is always a chance that you will succeed in life. Failure should never be an option in one's life. Eliminate bitterness in life and always be thankful for whatever life has offered you and with that, you will be able to see your purpose in life.
---
Also Read: Incredible Love Story of Nick Vujicic and Kanae Miyahara
---
Hope you have loved Nick Vujicic Biography. He is a real inspiration for differently able people.
Some FAQ About Nick Vujicic:
Now I will share some most frequently asked question on the internet about him.
Who are Nick Vujicic parents?
Nick Vujicic was born to Dushka and Boris Vujicic in 1982 in Melbourne, Australia. His father Boris Vujicic was a Christian pastor and His mother, Dushka Vujicic was a nurse
Did Nick Vujicic get married?
Yes, He is married to Kanae Miyahara
How did Nick Vujicic meet Kanae Miyahara?
Nick and Kanae first met in 2010, and it was love at first sight. There was a small event in Dallas, where Nick was a guest speaker and Kanae was attending it.
How much is Nick Vujicic net worth
In 2016, Nick Vujicic's net worth was estimated to be$500 Thousand.
Who are the Nick Vujicic family members?
His family members are as follows: Kanae Miyahara (Nick Vujicic's wife), Kiyoshi James Vujicic (Nick Vujicic's elder son), Dejan Levi Vujicic (Nick Vujicic's younger son), Dushka Vujicic (Nick Vujicic's mother), Boris Vujicic (Nick Vujicic's father), Aaron Vujicic (Nick Vujicic's brother) and Michelle Vujicic (Nick Vujicic's sister).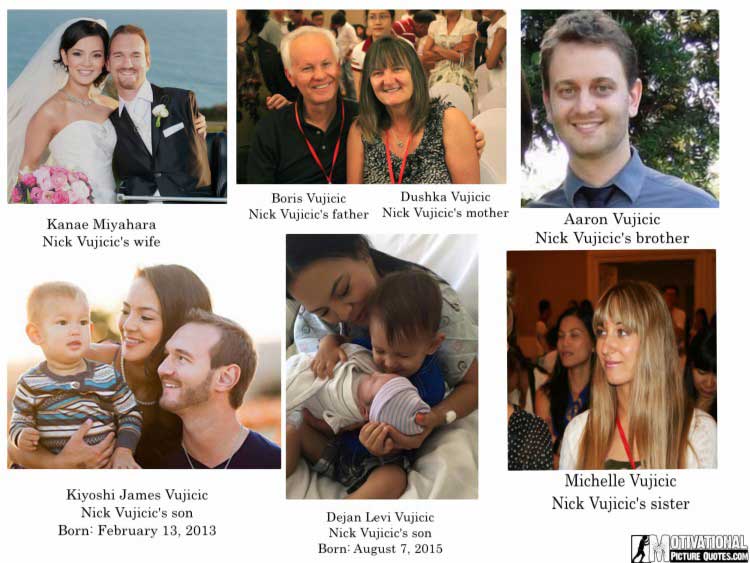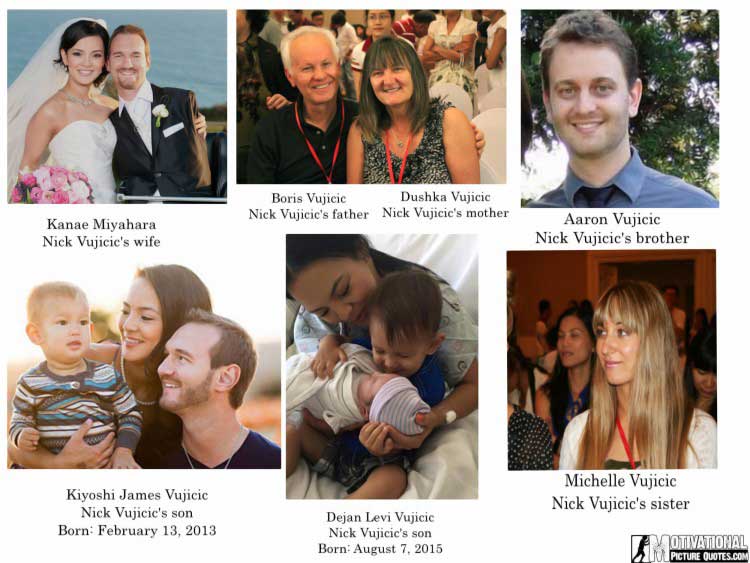 No. he is still alive
What is Nick Vujicic website?
nickvujicic.com
I think Nick Vujicic life is inspiring for all of us. If you love his inspirational biography and motivational quotes, don't forget to share them with your friends and family. Spread the inspiration everywhere.
---
Read : Motivational Nick Vujicic Quotes about Love and Life
---