Mistakes are unpleasant things. These can even be dangerous. Nobody wants to make it on purpose, but unfortunately, we all make mistakes.
However, making mistakes is quite inevitable. No matter how hard we try to avoid it, there will be instances wherein it just happen. This can affect the individual in different ways. The effect, however, is more often than not negative. It makes people feel like they're failing like they're not good at what they do and also feel that they're not going to succeed. If only people think about mistakes in a different way, it can turn into something extraordinary.
See Also: Overcome Fear of Failure in Life Saying with Pictures
Many things in life are uncertain. Hence, you can't control everything around you. This is the main reason why everybody commits mistakes. As mentioned above, if only people would think about it differently, they will certainly appreciate the several benefits that they can get from making mistakes.
Errors tell us something that we don't know. In the beginning, we might think that we have everything under control, which we know everything that we have to know. When something went wrong, we realized that we missed something. Thus, it can even make us more knowledgeable.
Read Also: Success Quotes and Sayings by Famous People
If something wrong happens, people behave differently. Hence, it also reminds us of our values. Our mistakes can also affect other people even those who are not even involved in our activities. If we make an error in what we do, we are reminded that how other people will feel.
When we fail, we disappoint not just other people but most of all, ourselves. The tricky part in handling an error is how to forgive you for being wrong about something. Hence, mistakes are very helpful in learning how to forgive yourself, and how to forgive other as well.
When nothing goes wrong, you will feel that you are excellent at what you do. When something went wrong on the other hand, you realized that you still have a lot to learn. It teaches us the value of continuous learning. It reminds us that no matter how much we think we know, there is still room for improvement. If we feel like we are invincible, mistakes tell us that we are not. Thus, mistakes teach us to be humble.
Don't Lose Hope for any error. Mistakes are not entirely unpleasant if you know how to deal with it. Mistakes do not happen to stop you from getting what you want. It happens to make your next attempts better.
If you are still furious about the mistakes you've done, read the following Making Mistakes Quotes with Images and try to think about mistakes differently.
---
"A life spent making mistakes is not only more honorable but more useful than a life spent doing nothing."
– George Bernard Shaw
---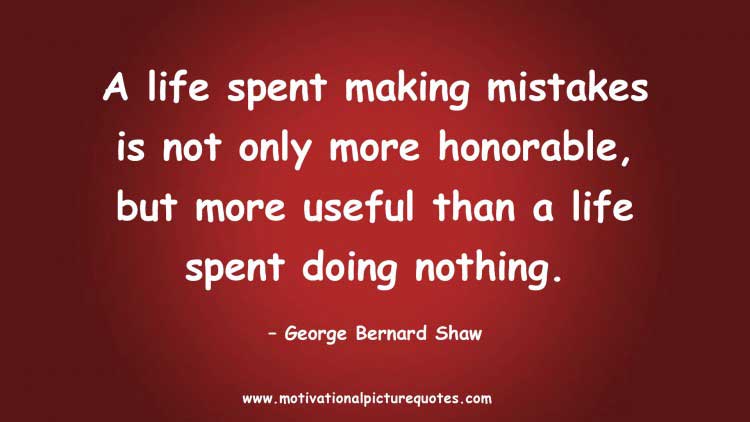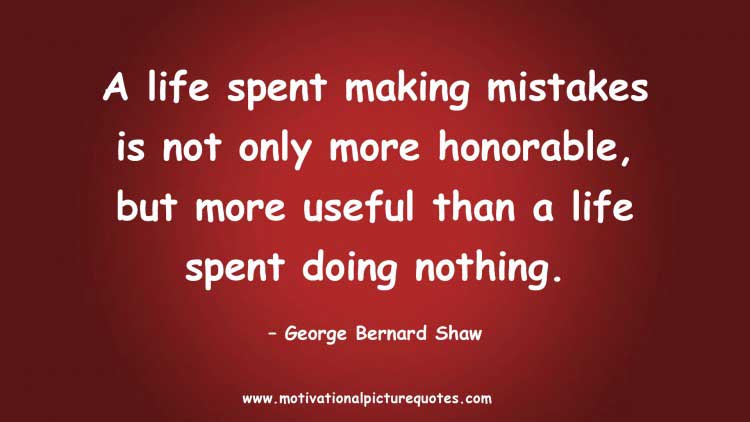 ---
" Anyone who has never made a mistake has never tried anything new."
– Albert Einstein
---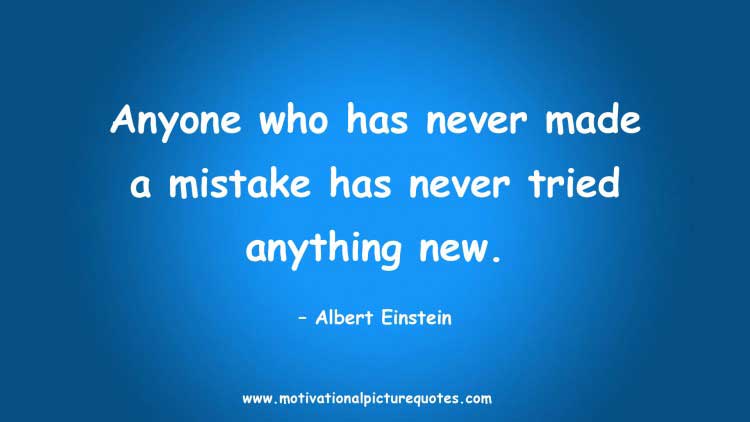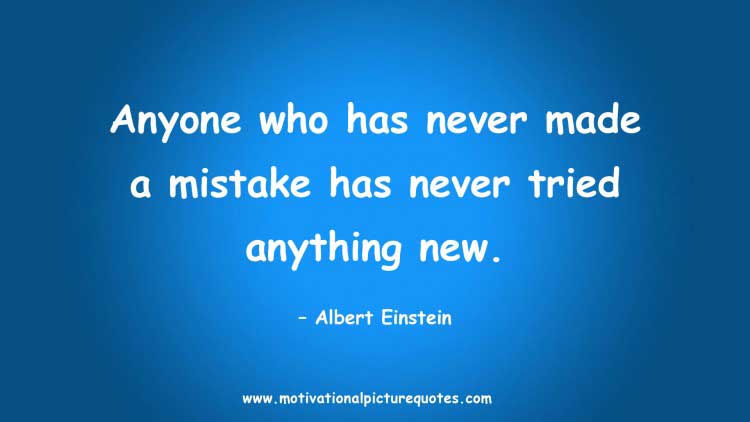 ---
" All men make mistakes, but only wise men learn from their mistakes."
– Winston Churchill
---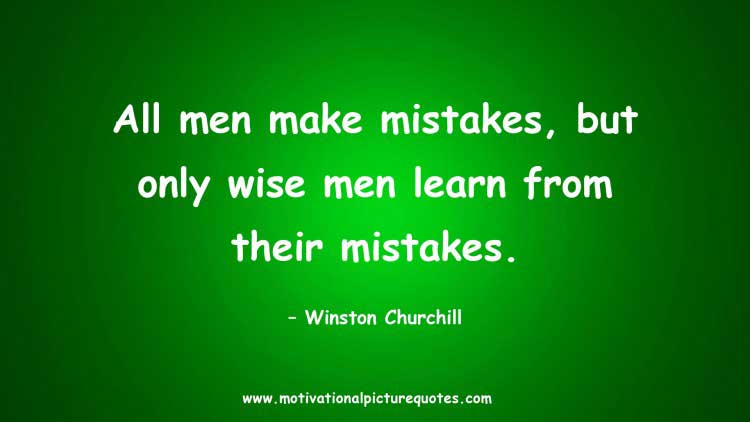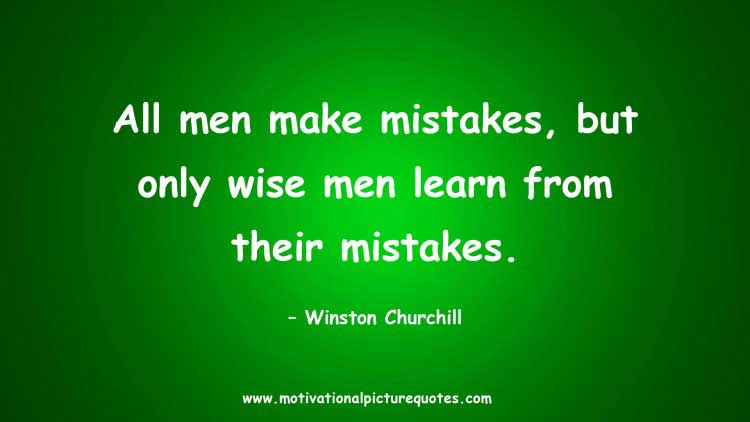 ---
"Experience is the name everyone gives to their mistakes."
– Oscar Wilde
---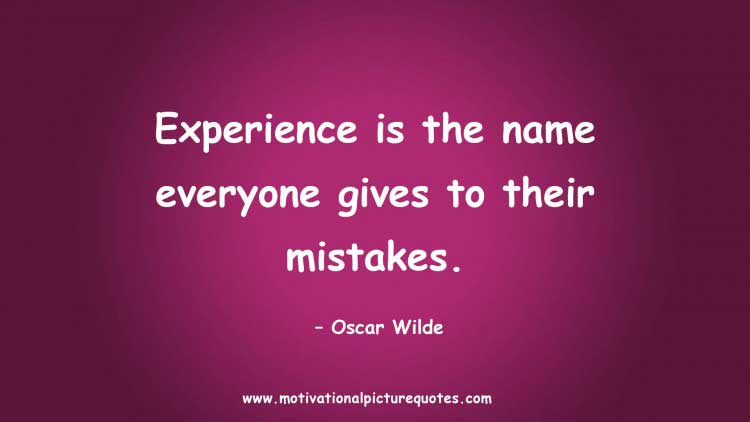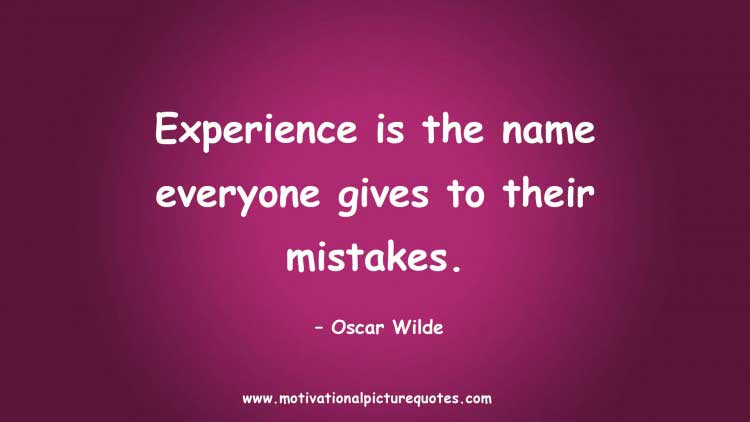 ---
" Mistakes Are Proof That You Are Trying."
---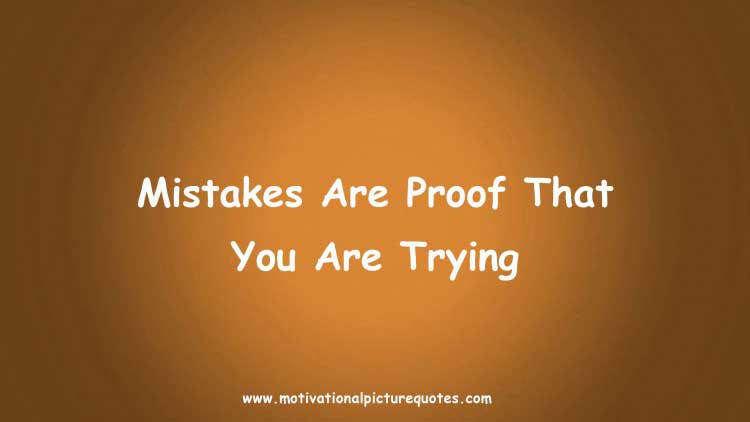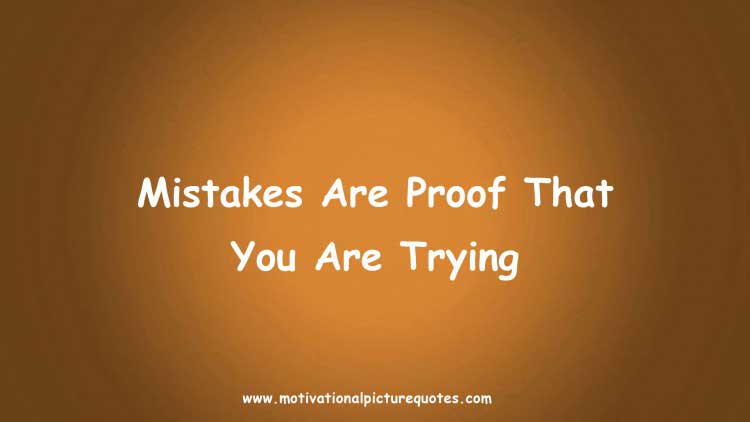 ---
The greatest mistake a man can ever make is to be afraid of making one."
– Elbert Hubbard
---
---
"The only real mistake is the one from which we learn nothing."
– John Powell
---
---
"We all make them, the difference is what we do after we make the mistake, how we see the mistake – a learning experience or a failure."
-Catherine Pulsifer
---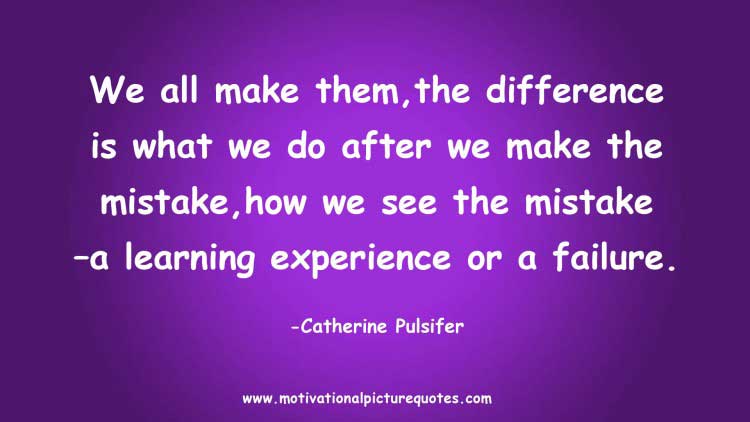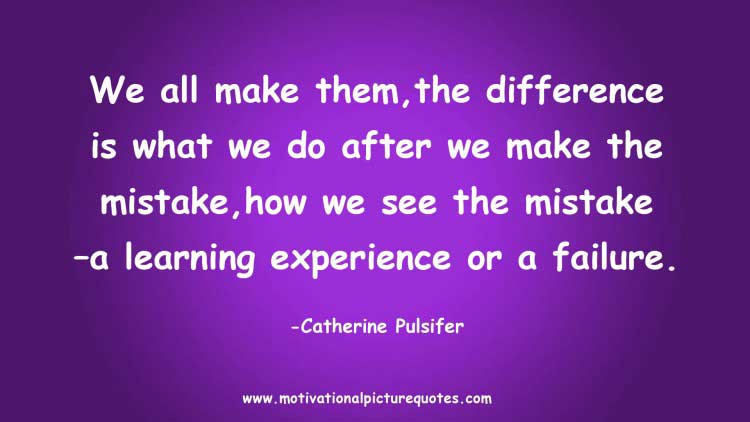 ---
A man must be big enough to admit his mistakes, smart enough to profit from them, and strong enough to correct them.
-John C. Maxwell
---
Some More Quotes About Making Mistakes And Learning
---
"Experience teaches slowly, and at the cost of mistakes." James A. Froude
"If I had my life to live over, I'd make the same mistakes, only sooner." -Tallulah Bankhead
"Mistakes, obviously, show us what needs improving. Without mistakes, how would we know what we had to work on?" – Peter McWilliams
Mistakes are always forgivable if one has the courage to admit them. -Bruce Lee
"Never believe that each task must be done perfectly. We are humans, and we all are bound to make mistakes, whether a few or many, little or big or rarely or frequently." -Lindsay J. Hallie
"Never interrupt your enemy when he is making a mistake." – Napoleon Bonaparte
"Remember, there are no mistakes, only lessons. Love yourself, trust your choices, and everything is possible." -Cherie Carter-Scott
"Success seems to be connected with action. Successful people keep moving. They make mistakes, but they don't quit." – Conrad Hilton
The biggest mistake by most human beings: Listening half, understanding quarter, telling double.
---
It is not errors that make the situation complicated. It is our attitude towards mistakes that complicate things. If you are afraid to take risks, you'll probably end up with nothing. If you think mistakes are bad, you're wrong. Mistakes are bad if you do nothing about it. Mistakes are part of life. And these are not part of your precious life for nothing.
Also Read: Inspirational Life Quotes with Images
The valuable things about mistakes are the lessons that you can learn from them. However, if you keep on making the same mistakes over and over again, it only means that you're already committing real mistakes because you learn nothing from them.
It is time to share these "mistakes quotes" with your beloved one and make them alert about it.