It is said that Good Things Come to Those Who Wait. If your Read some Famous Patience Quotes, you will get the same statement supported by successful, famous personalities.
Patience is more than a virtue. As we live in a fast-paced world in which everything happens so fast, patience seems to be so last year and outdated. It seems like being patient is a recipe for slow progress or outright failure. Patience is considered as the rhythm which the weak dance to. It is deemed to be a vehicle that only has a reverse gear.
If you look closely, patience is all that one needs to be successful. A lot of successful business stories have taken time. Most of the greatest love stories of all time were not achieved in the snap of a moment; patience is their foundation. Some of the greatest and most beautiful cities in the world were not built overnight; they took time. Patience was required to complete the building processes, or else the projects would have been abandoned.
A long time ago, the mighty city of Malikadel found itself without a King or leader. In the same year, famine spread across the city. The heavens did not open up for the rains. The dams and rivers were thirsty. The land was dry and arid. Their domestic animals such as cattle and sheep did not find any grass to feed on. The animals died one after the other. Their horses were weak and could no longer be ridden. Malikadel had undoubtedly fallen from grace. The council of elders was called upon to intervene.
The council of elders met under their traditional and famous oak tree which stood in the middle of the city. The board meeting decided that it was time for the city to seek divine intervention. An oracle was consulted. He made it clear that a rainmaking ceremony was on the cards. Apart from the ceremony, a new King was to be chosen without any delay. The bravest and finest men of the city were called to the ceremony. Whoever brought a skin of water home was to be crowned the King of Malikadel.
The men had to draw water from any of the five existing wells in the city. After three days of waiting, no water ever came out. Some the young men left while some began to dig new wells. Alawala waited patiently for the water to come. He didn't care how long it was going to take; he knew that the gods would never lie about bringing water from any of the five wells. After nearly three weeks at the well, Alawala saw a stream of water gushing out of the well, and he quickly filled his clay pot. He ran back to the community where he was crowned as the King.
In comparison to other men in a city, he was not worth even to be considered to be a King. Sometimes, patience is worth more than hard work. Patience requires a strong person. Waiting for the water to gush out was not easy for Alawala, but the price was worth more than the effort. Patience pays. Without patience, we can never receive the good things coming our way. Though the destination seems to be a million light years away from where are, it is only through patience that the goal appears to be a stone throw away. Life is not only about getting there; it's about finding pleasure in getting there. Be patient. Be happy. You will get there.
Here are some famous patience quotes images to get  inspiration in life.
Inspirational Patience Quotes
---
Knowing trees, I understand the meaning of patience. Knowing grass, I can appreciate persistence.
– Hal Borland
---
---
One moment of patience may ward off great disaster. One moment of impatience may ruin a whole life.
-Chinese Proverb
---
---
One minute of patience, ten years of peace.
– Greek proverb
---
---
Patience, persistence and perspiration make an unbeatable combination for success.
-Napoleon Hill
---
---
Patience can't be acquired overnight. It is just like building up a muscle. Every day you need to work on it.
-Eknath Easwaran
---
---
Patience makes a women beautiful in middle age.
-Elliot Paul
---
---
Patience is necessary, and one cannot reap immediately where one has sown.
-Soren Kierkegaard
---
---
Patience is the best remedy for every trouble.
-Plautus
---
---
Patience is bitter, but its fruit is sweet.
-Jacques Rousseau
---
---
Patience is the greatest of all virtues.
-Cato the Elder
---
---
The key to everything is patience. You get the chicken by hatching the egg, not by smashing it.
-Arnold H. Glasow
---
---
The two hardest tests on the spiritual road are the patience to wait for the right moment and the courage not to be disappointed with what we encounter.
-Paulo Coelho
---
---
The strongest of all warriors are these two — Time and Patience.
-Leo Tolstoy
---
---
We could never learn to be brave and patient, if there were only joy in the world.
-Helen Keller
---
---
Genius is nothing but a great aptitude for patience.
-George-Louis de Buffon
---
---
A handful of patience is worth more than a bushel of brains.
-Dutch Proverb
---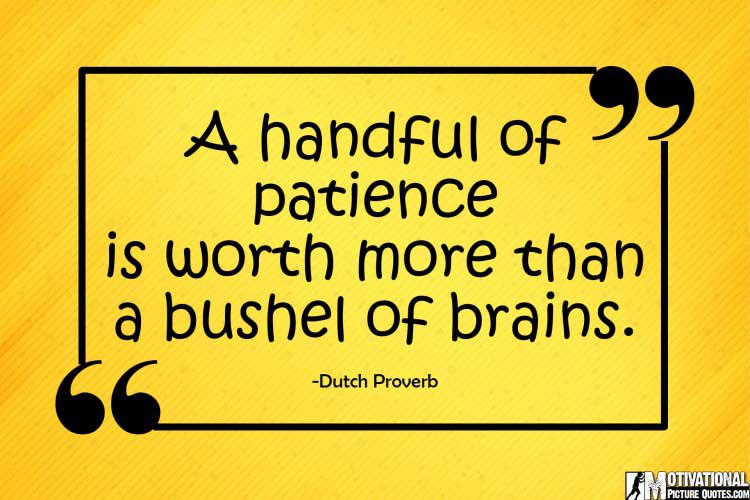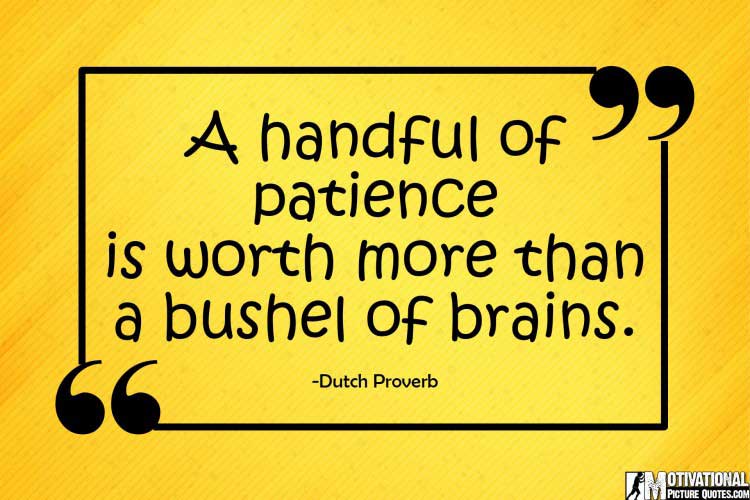 ---
A man who is a master of patience is master of everything else.
-George Savile
---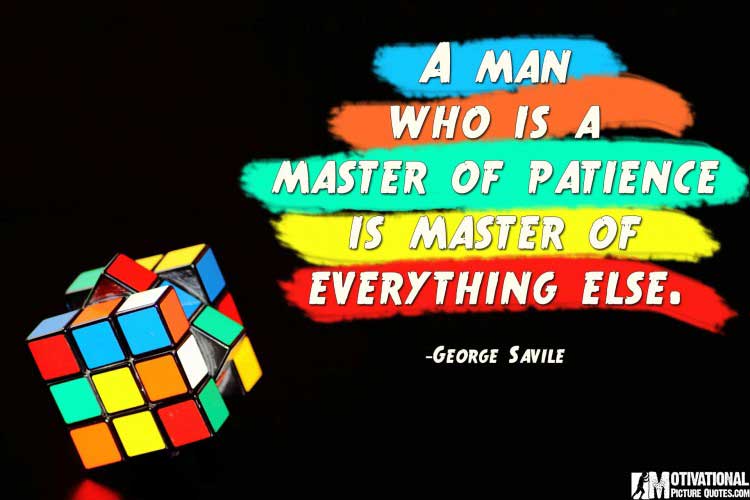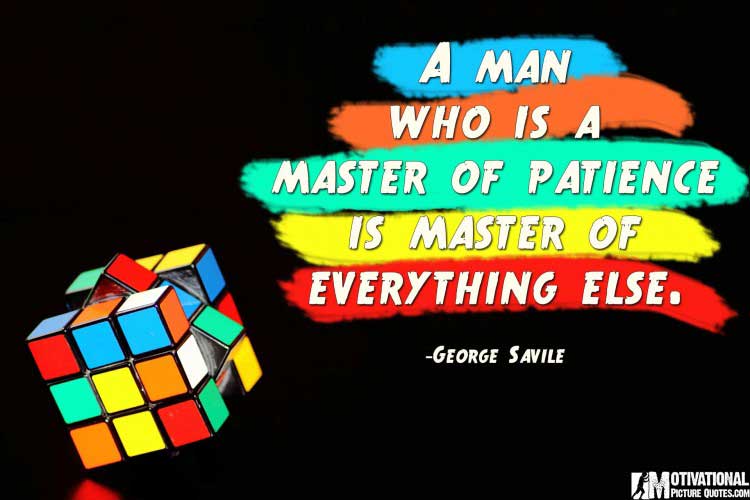 Being Patient in Relationship Quotes:
---
Patience is not just about waiting for something… it's about how you wait, or your attitude while waiting.
– Joyce Meyer
---
---
With love and patience, nothing is impossible.
-Daisaku Ikeda
---
---
Things may come to those who wait, but only the things left by those who hustle.
-Abraham Lincoln
---
---
Never cut a tree down in the wintertime. Never make a negative decision in the low time. Never make your most important decisions when you are in your worst moods. Wait. Be patient. The storm will pass. The spring will come.
-Robert H. Schuller
---
---
Be patient and understanding. Life is too short to be vengeful or malicious.
-Phillips Brooks
---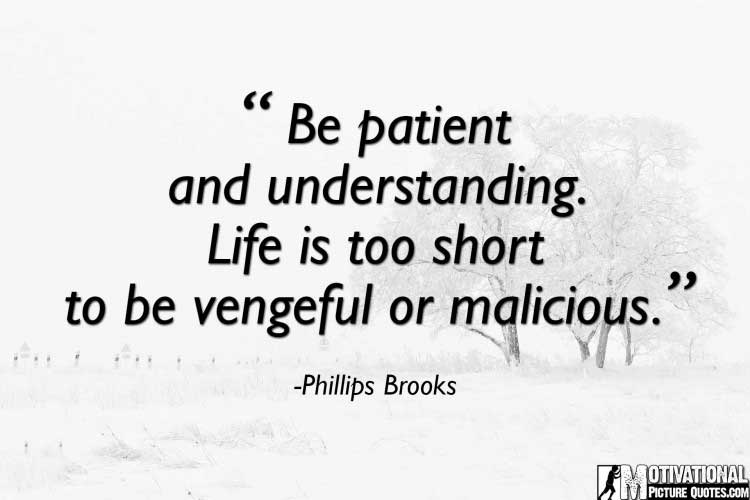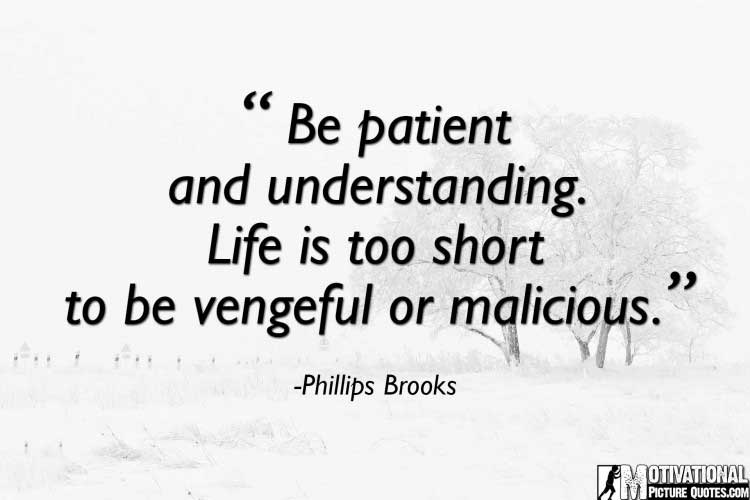 Patience Pays off Quotes
---
Trees that are slow to grow bear the best fruit.
-Molière
---
---
Good things come to those who wait… Better things come to those who don't give up…and the best things come to those who believe!
– Unknown
---
---
All good things come to he who waits.
-Proverb
---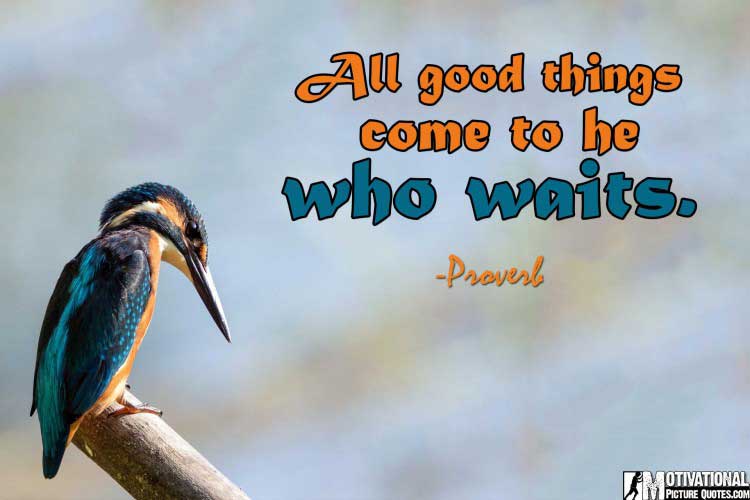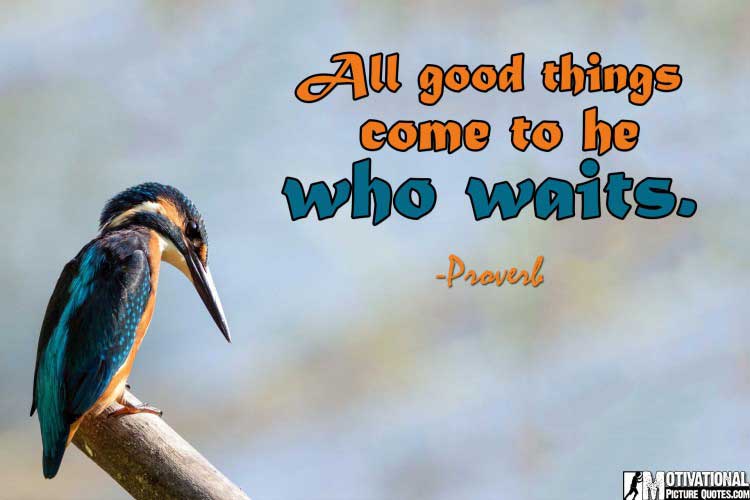 Have Patience Quotes:
---
---
Have patience. All things are difficult before they become easy.
-Saadi
---
---
He that can have patience can have what he will.
– Benjamin Franklin
---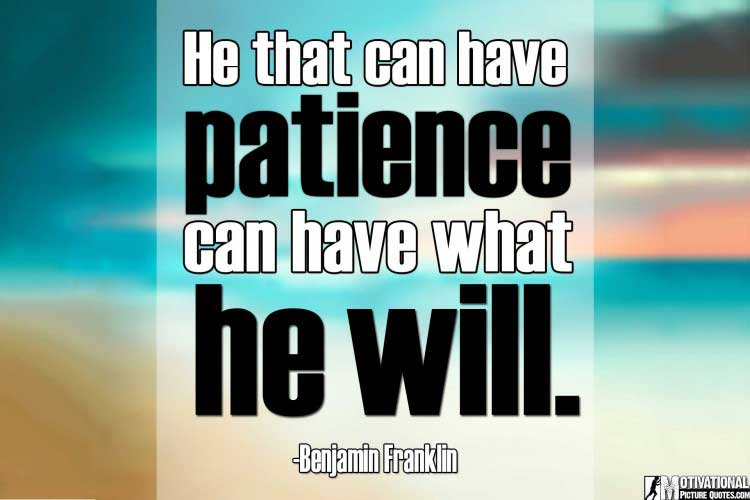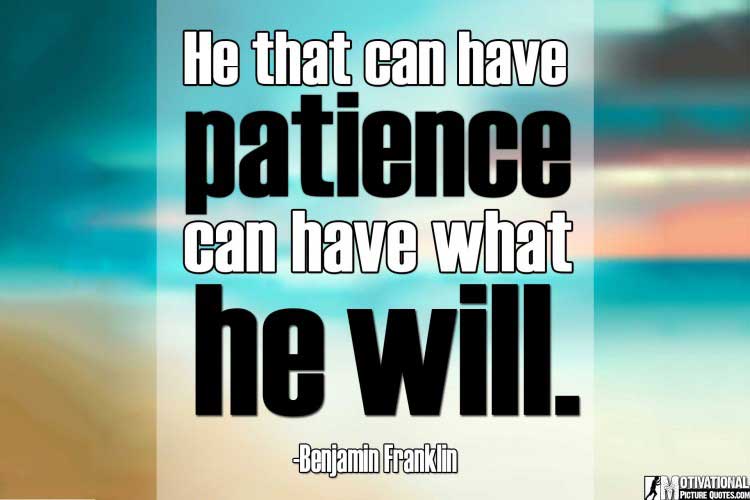 ---
---
Have patience with all things, But, first of all with yourself.
– Saint Francis de Sales
---
---
Have patience, my friend, have patience;
For Rome wasn't built in a day!
You wear yourself out for nothing
In many and many a way!
Why are you nervous and fretty
When things do not move along fast;
Why let yourself get excited
Over things that will soon be past?
-Gertrude Tooley Buckingham, "Patience" (the 1940s)
---
---
You must first have a lot of patience to learn to have patience.
-Stanislaw Jerzy Lec
---
Have you found this patience quotes images useful to you? Have I forgotten or missed to include any must have quotes on patience? Please, do share your thought with us.